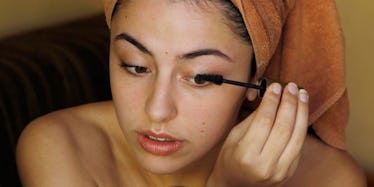 10 Subtle Makeup Tricks To Make It Look Like You Got Enough Sleep
We've heard, time and again, that we need to get at least eight hours of sleep each night. It's good for our bodies, our minds, our spirits, yadda, yadda, yadda.
Getting eight hours of sleep, however, is not always realistic. Life gets in the way! Every day there's a new obstacle standing between us and those eight hours.
Whatever the reason, it all puts us in the same place: Cursing the passage of time when we finally look at the clock and realize there is no way we are getting eight hours of sleep that night.
But here's the thing — your friends and coworkers don't need to know you didn't get a good night's sleep. No one needs to know. How are you going to keep this secret, you ask? Through the wonderful magic of makeup, that's how.
Here are 10 subtle makeup tricks that will make it look like you got enough sleep last night.
Start your routine with a caffeine-filled anti-oxidant eye roller.
Your eyes are the first part of your body to betray your lack of sleep, so they need to be the focal point of your morning routine.
To combat the common puffy eye problem that comes when you're feeling tired AF, caffeine is your best bet. No, I don't mean ingesting coffee (though clearly that's a smart move as well). I'm talking about using a caffeine-infused anti-oxidant roller under your eyes. It will constrict the blood vessels under the skin, thereby reducing the puffiness.
Before applying makeup, prep with an eye-brightening cream.
Eye-brightening creams take the effects of the eye roller to the next level. They are literally working against gravity to get rid of those bags under your eyes.
To maximize their utility, use your middle or ring fingers to apply the cream from your inner eye to the outer corner.
Apply an uplifting, curling mascara.
The last and arguably most important component of keeping your eyes wide and alert is the application of a good mascara.
Choose a product with an uplifting, curling formula that will both separate your lashes and take them sky high. Who needs liner when your eyelashes are full and perfectly-shaped?
Use a shadow that complements your eye color.
Now that we've taken care of puffiness, we need to work on opening the eye up as wide as possible.
The first step in that direction is to choose an eye shadow that is complementary to your eye color. By bringing out your eye's natural color, you'll distract from any of the other imperfections left by a lack of sleep.
To simplify this decision, simply consult a color wheel. Blue-eyed ladies should stick with golden hues, whereas green and hazel look best with pinks and purples. All my brown-eyed girls out there, consider yourselves lucky. Your eye color is the most versatile.
Avoid the cat-eye look at all costs.
The cat-eye is an awesome look when done right, but it is a DRAMATIC look that requires a LOT of eye liner.
When you're dealing with puffy eyes, you don't want heavy makeup to weigh down the work you put into keeping those eyes open. Opt for a cleaner, liner-less look.
Highlight brows and the corners of the eye.
Brow highlighter is yet another useful tool in drawing attention away from the under-eye region. Obviously your brows will take a coat, but you can also apply brow highlighter to the corners of your eye to widen its shape.
Use an under-eye concealer that is lighter than your foundation.
Between putting on your mascara and your foundation, be sure to use a concealer as the last defense against dark circles under your eye.
The key is to apply a concealer that is at least one shade lighter than your foundation. It's the final touch to making your eyes the brightest beacons they can be.
Choose a moisturizing foundation.
When you lose sleep, your complexion is thrown completely out of whack. Your skin becomes dry and dehydrated, and sometimes it can look red.
To counteract this problem, you'll want to use a foundation with moisturizers in it. It'll help you achieve that dewy, luminous look you normally capture after a good night's rest.
Avoid pressed powders at all costs.
Powders will only exacerbate your skin's imbalances while you're tired. Do not even THINK about using pressed powders.
Utilize a cheek highlighter instead of blush.
The last step in your makeup-bag-of-tricks is the application of a cheek highlighter.
When you aren't feeling like your best self, you want to glow to the rest of the world so they have no idea what you're feeling inside. While bronzer and blush can easily go awry and veer into clown territory when you aren't on you're A-game, a simple, sparkle-less cheek highlighter can take you into that healthy territory.
Just because life got in between you and your coveted eight hours doesn't mean anyone else has to know. You can make your sleep schedule your best kept secret as long as you follow these tricks of the makeup trade.
After all, we all just want people to think we woke up like this.
Say bye bye to your lash curler with new 24HR Supercurler mascara. Brought to you by Rimmel London.