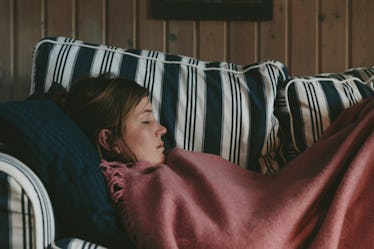 7 Hangover Remedy Myths That We've All Definitely Fallen For Before
Everyone's been there: You have the hangover of the century, and you would do anything to get rid of that splitting headache, nauseous stomach, and those awful shakes. Hangovers are the absolute worst thing to happen on a Sunday morning, like the ultimate version of the Sunday scaries, except they start at 7 a.m. sharp and ruin your whole day from there. When a Saturday night out leaves you feeling brutal the next day, it can be especially easy to fall for those ridiculous hangover remedy myths, in the tiny hope that they just might work.
Here's the sad, simple truth: If you drink too much, pretty much nothing is going save you. The best thing you can do for a hangover is get a little bit of exercise (surprisingly enough, it helps if you move around) and take an ibuprofen to help you endure the worst of the misery.
The best cure for a hangover, unfortunately, is time. But that doesn't mean that people don't still try to come up with countless hacks and strategies to cheat their way out of that Saturday night bender in any way possible. With New Year's Eve coming up, it might be a good idea to revisit all of the hangover remedy myths you've tried over the years. Here are seven of them that are just plain false.