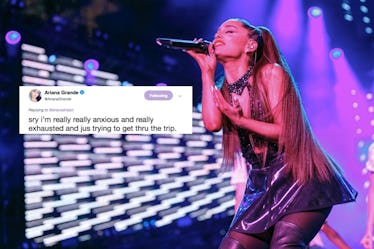 Ariana Grande Got Real With Fans On Twitter About The Anxiety She Has Returning To The UK
It always means a lot to me when people who are in the public eye get vulnerable with their fans about their struggles, especially when it comes to mental health. For instance, Ariana Grande's tweets about anxiety over the past few days have shown just how candid the pop star is willing to get with her fans. She revealed that she's been having serious anxiety about returning to the UK, a place that holds a lot of emotional weight for her after the Manchester attack in May 2017.
Of course, Grande's tweets about her mental health aren't the first time she's opened up about what she's going through. The 25-year-old singer was recently on the cover of ELLE's August 2018 issue, and during her interview with the magazine, Grande explained how she began experiencing extreme anxiety after coming back to the United States following the Manchester concert: "When I got home from tour, I had really wild dizzy spells, this feeling like I couldn't breathe," she said. "I would be in a good mood, fine and happy, and they would hit me out of nowhere."
While Grande told ELLE that anxiety wasn't necessarily new for her, the intensity of her symptoms was. "I've always had anxiety, but it had never been physical before. There were a couple of months straight where I felt so upside down," she explained.
A little over a year has passed since the Manchester attack, but it's totally understandable that Grande's first visit back to the UK might bring up some of those anxieties again. So when a fan on Twitter asked about why she was keeping a low profile during her time in London, Grande was nothing but honest about the difficulties she's been facing.
Personally, one of the things I love about Ari is her constant outpouring of love toward her fans. Even when she's facing her own struggles, she's intentional about sending love to the people who follow her and her music. And despite the extreme challenge of returning to a place that's marked such a difficult time for Grande, she's made sure to put the focus back on her incredible music and the passionate fans who listen to it.
Before stepping out to meet her UK fans, Grande made sure to care for her own body and allowed herself some time to rest.
Many of Grande's fans loved her honesty about this simple act of self-care, as they fully understood that keeping herself healthy is a top priority.
Grande is no stranger to sticking up for her own mental health needs. While she is overwhelmingly kind online, the pop star is also a perfect example of how it's totally possible to create healthy boundaries for yourself. After receiving some negative comments online regarding her relationship with fiancé Pete Davidson, Grande took a short social media break, explaining her reasoning in a tweet:
yeh ! i'm prolly gonna post on der for a little while & take a breather from twitter & ig for a little. just sometimes can't help but bump into some negative s*it that really can bum u out and it's not worth it honestly. promised i'd always tell you. i love u sm ! be well & happy.
Grande also dedicated a song, "Get Well Soon," on her long-awaited new album, Sweetener, to express her experiences with anxiety and comfort the people who were impacted by the Manchester attack. After a fan tweeted and asked the singer about the inspiration behind "Get Well Soon," Grande explained its meaning in her own life, as well as what she hopes others will take away from the track:
In a sweet goodbye tweet to her UK fans, Grande seemed to be feeling much more peaceful:
Sending so much love right back at you, Ari.