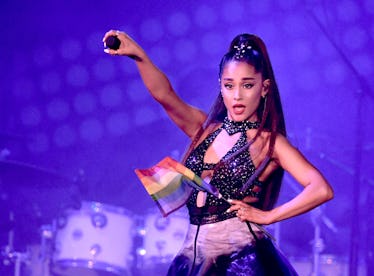 This Detail In Ariana Grande's Song "Get Well Soon" Is A Tribute To Manchester
Kevin Winter/Getty Images Entertainment/Getty Images
This is not a drill — Ariana Grande's Sweetener has finally dropped today, and OMG you guys, it's amazing. I mean, I knew it was going to be super meaningful since it's her first album following the terrorist attack during her concert last year. But it's so much more emotional than I ever imagined. I know we've already heard her go deep on previously-released tracks like "No Tears Left to Cry," "God is A Woman," and "The Light is Coming," so I shouldn't really be all that surprised that so many of the songs on her fourth album seem to be about healing. But now I'm wondering if Ariana Grande's "Get Well Soon" is about the Manchester attack, because there's a major detail that is super meaningful.
Grande first announced the name of her album during an appearance on The Tonight Show back on May 1, where she explained to host Jimmy Fallon that Sweetener was about taking something bad and making it better. "It's kind of about bringing light to a situation or to someone's life," she said. "Or somebody else who brings light to your life, or sweetening the situation."
LOVE that!
Later that same month, Grande told W she'd be giving her fans a glimpse into her healing process with the new album.
"There are parts of my life that they would love to know about and hard times that I have been dealing with for the past year and a half that they deserve to know about," she explained. "I don't want to hide any pain from them, because I can relate to their pain. Why not be in it together?"
Which brings us to "Get Well Soon." In the first verse, Grande talks about feeling disconnected and overloaded.
They say my system is overloaded / (Girl, what's wrong with you? Come back down) / I'm too much in my head, did you notice? (Girl, what's wrong with you? Come back down) / My body's here on Earth, but I'm floating / (Girl, what's wrong with you? Come back down) / Disconnected, so sometimes, I feel frozen and alone
Grande then sings in the chorus:
This is for everybody / Babe, you gotta take care of your body, yuh yuh / Ain't no time to deny it, that is why we talking about it / Yeah, we talking about it / So deal with it, don't try to get by it / Ain't no time to deny it / So we had to sit down and just write it
The rest of the song has even more telling lyrics, but the chilling part is what isn't sung. The song actually includes a moment of silence. Even more than that, the song comes to five minutes and 22 seconds with the pause, which happens to be the date the Manchester attack happened back in 2017.
Don't worry, I'm crying enough for all of us right now. The song is a beautiful tribute and fans should give it a listen, along with the rest of the Sweetener album.