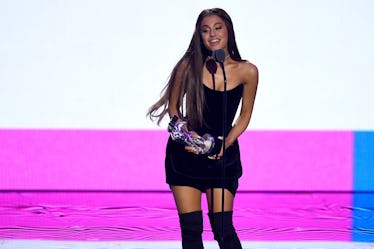 Ariana Grande Loves The Start Of Fall Just As Much As You Do & Her IG Story Proves It
Theo Wargo/Getty Images Entertainment/Getty Images
To say that Ariana Grande has been through a lot over the past year is a tremendous understatement, and adoring fans have been feeling for the pop star through it all. But Grande is one to always keep fans in the know, and for those who've reached out to, prayed for, or followed along with the 25-year-old singer's journey, you can rest assured the light is coming to give back everything the darkness stole from the Sweetener vocalist, starting with the onset of fall. Ariana Grande's Instagram story about fall was as simple as it was heartfelt; the star quoted the late F. Scott Fitzgerald in her social media post, and the IG story seems to symbolize more than just a time of healing for Grande — I'm pretty sure it was also her clever way of saying she's all about autumn in the same way you are. Honestly, I was convinced I couldn't love the future Mrs. Pete Davidson more than I already do, but now that I know she has the utmost appreciation for fall (not to mention the genius that is F. Scott Fitzgerald), I've officially been proven wrong.
Up until now, I've personally always associated New Year's Eve and springtime with personal renewal, but Ariana Grande's latest Instagram story, which features a classic F. Scott Fitzgerald quote from his 1925 novel The Great Gatsby, puts into perspective the unique kinds of transformations fall can inspire as well. Think about it: From the time you're about four or five years old, up until senior year of college, fall represents the start of a new school year — new clothes, fresh haircut, a different class schedule, and even a new group of classmates to socialize with. I don't know about you, but for me, even at 26 years old, that novelty of fall has yet to subside, and clearly, I'm not the only one who sees autumn as so much more than a season marked by picture-perfect foliage, pumpkin spice, and sweater weather.
On Sunday, Sept. 30, Ariana Grande posted an Instagram story attributing a piece of F. Scott Fitzgerald's wisdom, writing, "Life starts all over again when it gets crisp in the fall." The 25-year-old pop star added the quote to her 'Gram hours after supporting husband-to-be Pete Davidson during Saturday Night Live's season premiere on Saturday, Sept. 29.
It's especially great to see this positivity and optimism coming from Grande after the many challenges she's faced throughout the last several months. Following the news of Mac Miller's death in September, PEOPLE reported that Grande may be taking a bit of a break from the spotlight "to heal and mend" from the difficult year she's had, and "to spend time with her loved ones and work on new music without deadline." Elite Daily reached out to Grande's team for comment on this, but did not hear back by the time of publication.
Regardless, it seems like the God Is A Woman singer is taking life day by day at this point, and according to psychologist Dr. Danielle Forshee, LLC, the fall season in particular is an ideal time to reflect and look toward the future. Circling back to the connection between fall and going back to school, for instance, autumn can feel extremely nostalgic, and Forshee tells Elite Daily over email that nostalgia is "derived from positivity from past experiences; therefore, it is likely that when individuals experience nostalgia about the fall, they may be feeling optimistic about the future."
What's interesting about Grande quoting this particular Fitzgerald passage, though, is that it specifically states, "life starts all over again," which could indicate that Grande is reminiscing about the past — and while she might be fond of her memories, she also appears to be focusing on a new beginning.
"Engaging in activities outside the norm that can only occur during the fall season, such as apple-picking, pumpkin-carving, [and] fall festivals, create lasting memories with our family and friends that are [therefore always] associated with the fall season," Forshee explains. She adds that these types of heartwarming moments are likely to, in turn, "raise self-esteem and foster social connectedness" — which, to me, sounds like it's exactly the kind of time Grande needs to heal, lift her spirits, and connect with those who love and support her.
Of course, finally being able to order a venti PSL at Starbucks, or taking bites of your mom's homemade apple pie, is great and all, but according to behavioral scientist, relationship coach, and creator of Your Happiness Hypothesis Method, Clarissa Silva, your love for fall could have more to do with the changing of leaves and brisk fall air than the return of your favorite seasonal flavors. See, when the leaves go from mossy green to bright orange and red, and the winds are crisp, these are tell-tale signs that nature is preparing itself for a change, and Silva says this dynamic can inspire a similar transformation within yourself.
"The fall is a season of change and the next stage," Silva tells Elite Daily over email. The fresh start of a new season, she explains, "provides us with the ability to put in motion plans that will materialize those goals and desires." In turn, she adds, the autumn season can instill a sense of hope in your heart — a sense that you will get closer to accomplishing what you really want in life at this moment. Sounds pretty magical, right?
So while F. Scott Fitzgerald might have been exaggerating just a tiny bit when he wrote that life starts again in the fall, it certainly feels, for many of us, like life is getting a reboot of some sort these days, both physically and mentally. As for Grande, I hope the autumn brings love, light, and healing. And for you, I hope that autumn offers whatever it is you need this season — be it a fresh start, or the warmth of your favorite sweater.