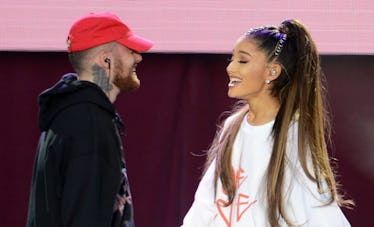 Ariana Grande Just Posted The Most Heartbreaking Tribute To Mac Miller On Instagram
Getty Images/Getty Images Entertainment/Getty Images
On Friday, Sept. 7, it was reported that Mac Miller died at 26 years old of a reported drug overdose, according to TMZ. The world has been reeling from his unexpected death ever since, including his ex, Ariana Grande, whom, apart from posting a black and white photo of the late rapper on her Instagram, has stayed pretty quiet on social media regarding his death. But now, she decided to break her silence, and Ariana Grande's video of Mac Miller that she shared on Instagram will make you so emotional while giving you so much insight into what her relationship with Miller was really like.
On Friday, Sept. 14, a week after Miller died, Grande posted a video she filmed of Mac Miller, presumably while they were dating. In it, he appears to be telling a story when he realizes that Grande is filming him and becomes embarrassed.
"Baby!" he exclaims in mock protest as he laughs and pulls his hoodie over his face. But Grande doesn't stop filming.
"But it's for me!" she says, and she has so much love in her voice. "It makes me happy."
"I'll tell you the story as many times as you want," Miller says, returning to the task of telling his story.
Check out the video below:
This small moment really does seem to show how in love Grande and Miller were. And Grande's caption only goes further to show just how much their relationship made an impact on her life. She wrote:
i adored you from the day i met you when i was nineteen and i always will. i can't believe you aren't here anymore. i really can't wrap my head around it. we talked about this. so many times. i'm so mad, i'm so sad i don't know what to do. you were my dearest friend. for so long. above anything else. i'm so sorry i couldn't fix or take your pain away. i really wanted to. the kindest, sweetest soul with demons he never deserved. i hope you're okay now. rest.
While Grande and Miller's relationship did not work out, it's still very clear that despite Miller's "demons," he was loved among everyone who knew him. This includes' Grande's brother, Frankie Grande.
Frankie took to Instagram two days before Ariana shared her emotional post to share how Miller helped him with his own addiction issues in a major way, writing:
I am beyond heartbroken over Malcolm's death. He was a good friend and was wonderful to my sister. He was the reason I went to the rehabilitation center where I was detoxed safely from all of the drugs alcohol and medications I was taking, when I couldn't imagine living without them. It was the place where I found the community of support that showed me that living life without drugs was a possibility and I would never have discovered that if it weren't for Malcolm. I remember when I would get 30, 60, 90 days clean and Malcom would be there with a gift and a card and words of encouragement... telling me that he knew how hard getting sober is and how impressed he was that I was succeeding.
Hopefully, those who loved Miller (of which there are, clearly, so many) are there for each other at this unfortunate time.
If you or someone you know needs help with substance abuse issues, you can reach out to the Substance Abuse and Mental Health Services Administration (SAMHSA) National Helpline at 1-800-662-HELP (4357).