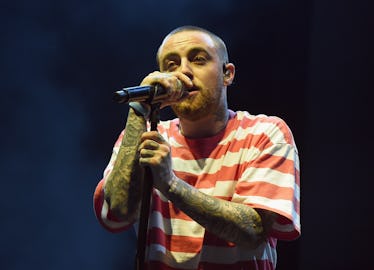 Mac Miller Has Reportedly Died At 26 Years Old
Kevin Winter/Getty Images Entertainment/Getty Images
Incredibly sudden and sad news has been reported in the music world. Mac Miller has reportedly died at 26 years old of an overdose, according to TMZ. Minutes after the report first broke, Us Weekly confirmed the news of Mac Miller's reported death on their website. Elite Daily reached out for comment on the report of his death and reported drug overdose, but did not hear back at the time of publication. According to TMZ, law enforcement found Mac Miller on Friday, Sept. 7 around noon at his San Fernando Valley home, where he "was pronounced dead at the scene," though his team has yet to confirm this.
This tragic news comes just weeks after he was charged with an alleged DUI and hit and run in May. Elite Daily reached out to Mac Miller's team at the time of the arrest but did not hear back by the time of publication.
In light of Miller's recent struggles with the law, his ex, Ariana Grande, showed some concern for her former partner after the news of his arrest came to light. The "God Is A Woman" singer took to Twitter and wrote, "pls take care of yourself" after Miller allegedly struck a pole with his Mercedes-Benz G-Wagon before allegedly fleeing the scene.
This is so, so incredibly hard to believe, you guys.
In a profile published by Vulture just one day ago, fans of Mac Miller learned of the pressures the rapper endured while growing up in the public eye — an eerie view into his life just one day before his reported death. "A lot of times in my life I've put this pressure to hold myself to the standard of whatever I thought I was supposed to be, or how I was supposed to be perceived," Miller told the publication. "And it creates pressure."
According to Vulture, Miller also spoke about his thoughts on his lyrics about "hard drugs and musings on premature death," most likely referencing his 2014 mixtape, Faces, which sounds all-too-ominous now after learning of Mac Miller's reported death.
He said,
I used to rap super openly about really dark sh*t ... because that's what I was experiencing at the time. That's fine, that's good, that's life. It should be all the emotions.
Sadly, Miller's profile with Vulture concluded by noting that he wants to be able to have both good and bad feelings exist on the same plane. "I really wouldn't want just happiness ... And I don't want just sadness either. I don't want to be depressed. I want to be able to have good days and bad days … I can't imagine not waking up sometimes and being like, 'I don't feel like doing sh*t.' And then having days where you wake up and you feel on top of the world."
On Thursday night, Sept. 6, Miller took to his Instagram Story and posted a video of a record player, in which his song "So It Goes" is playing. While the video is mainly instrumental music, the lyrics to that song are now haunting: "Nine lives, never, die, f**k a heaven, I'm still gettin' high."
Another artist taken entirely too soon.
If you or someone you know is seeking help for substance use, call the SAMHSA National Helpline at 1-800-662-HELP(4357).