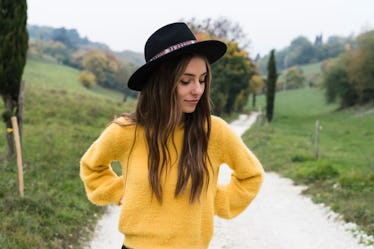 The One Thing That REALLY Sparks Your Love For Fall, Besides PSLs, According To Experts
When the clock strikes midnight on Sept. 22, 2018, autumn will officially begin. In recent years, I haven't had much patience for hot weather, so as far as I'm concerned, I was ready to get the fall rolling on Sept. 1. But, judging by the calendar's standards, you and I still have some time before pumpkin season makes its formal debut. Go ahead, call me #basic; it won't bother me one bit. To me, fall is so nostalgic: It's the only season out of the four that I can honestly say makes me feel like the best version of myself, and maybe that's because it brings out the child in me. I've been racking my brain for the perfect adjective to sum up the fall feels, and it wasn't until lifestyle blogger Actually Alexandra asked her followers on Instagram if they, too, felt nostalgic during the fall, that it hit me: Fall is every bit nostalgic, and maybe that's why so many people, myself included, are so in love with everything autumnal.
I know myself, and I have always felt this intense, emotionally charged, almost spiritual connection to autumn. Up until recently, I'd just associated this feeling with the fact that I was born in October, so obviously I would think highly of the season, right? But that's not necessarily true. My best friend was born in March, and she hates the chill of winter with a burning passion.
So, no, my love for fall goes beyond the fact that I'm an October baby; it's that the mindset of fall makes me feel good both mentally and physically, not to mention the combination of crunching leaves under my boots, the Halloween sugar high to come, and the building anticipation for upcoming holidays, all of which share one common feature: They remind me so much of my past, of some of the best times I've ever had in my life. Fall allows me a second, third, fourth, umpteenth chance to relive those precious moments of my youth in adulthood.
I realize it sounds a little corny, and maybe I'm even bordering on fantastical here, but when the edges of tree leaves start to turn from that deep green to burnt yellow and crimson, it's as if something shifts inside of me. And don't even get me started on how my mood changes for the better when the temperature outside drops down to the mid 70s and high 60s. It's as though I'm an entirely different person, but I'm not; I'm exactly the person I was meant to be, and would like to be, throughout the entire year.
To me, there's just no other season quite like fall. But it turns out, I'm not entirely alone in this, nor am I just ~being extra~. According to Clarissa Silva, a behavioral scientist, relationship coach, and creator of the Your Happiness Hypothesis Method, fall is just as magical as I've described it to be. "The fall is a season of change and the next stage," Silva tells Elite Daily. See, because fall is a transitional season in which nature is getting itself ready to produce for the future, Silva says your body starts mimicking the same process by preparing itself for a new slate, in hopes that "the new season will bring us closer to our goals and desires," she explains. "It provides us with the ability to put in motion plans that will materialize those goals and desires."
In order to make the connection between nostalgia and fall, though, you have to understand what nostalgia actually means on its own. Per the Merriam-Webster dictionary's definition, nostalgia can be defined as "a wistful or excessively sentimental yearning for return to or of some past period or irrecoverable condition." But here's the thing about nostalgia: To describe it as "wistful" tacks on a somewhat negative connotation to the emotion, but nostalgia isn't necessarily upsetting or regretful. In fact, doctor of psychology and licensed clinical social worker, Dr. Danielle Forshee, LLC, tells Elite Daily that nostalgia is typically derived from positive past experiences. In other words, your autumnal nostalgia is probably stemming from happy memories you've made in the fall season throughout your life, and those same memories are simply making you feel good and excited for what the future season holds before it's even officially begun.
This type of nostalgia is one to take full advantage of while you can, because not only can you revel in the memories of good times past, they can also be used to help you create new memories with family and friends. Autumn only comes once a year, which is why Forshee suggests jumping at every opportunity to celebrate the season in ways that are exclusive to brisk temperatures and vibrant foliage.
"Activities outside the norm that can only occur during the fall season, such as apple-picking, pumpkin-carving, fall festivals, and social activities that create lasting memories with our family and friends," Forshee tells Elite Daily, don't just hold a lot of special meaning; they also have the power to "raise self-esteem and foster social connectedness," the psychologist adds. So, even if you're not a fan of PSLs (um, why?), or even if you're just feeling really bummed that yet another summer has come and gone in the blink of an eye, Forshee says the best way to get yourself out of that slump is to join in on the fall festivities while you still can.
So, I don't know about you, but if you need me any time between now and Dec. 1 (my own personal, unofficial start to winter, in case you were wondering), I'll be sitting pretty under a comfy blanket, sipping a large mug full of pumpkin coffee and reading Stephen King novels. That, or I'll be filling up my social calendar with all the fall festivities, like wine tastings, apple-picking, grazing a pumpkin patch, or getting spooked in a haunted maze. Like memories, seasons come and seasons go, but it's up to you to hold on to their own unique, nostalgic traits, and experience them for as long as you can.