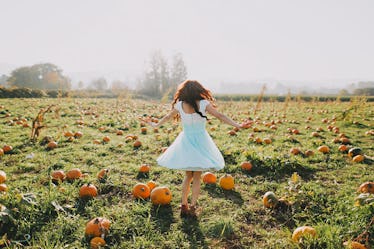 30 Clever Captions For Your Fall Travels, Because The Pumpkin Patches Await
It's almost fall, ya'll. Summer was great and all, but you're definitely ready for pumpkin spice-everything and cooler temps. There's just something so cozy about all things fall-related: the crisp air, pumpkin patches, Halloween, Thanksgiving, vibrant foliage, sweater weather, and so much more. You can finally pull out your flannel and beanies, because things are about to cool down. Here are 30 Instagram captions for fall travel, because it's time to explore all this incredible time of year has to offer.
What is your favorite season? In my opinion, fall is the absolute best. The weather isn't too hot or too cold. You can clearly witness the shift in the seasons as the leaves begin to change colors. And don't even get me started on fall apparel. A cute flannel is perfect for your back to school days, and a new pair of leather booties make the best kind of fashion statement. There are plenty of reasons to love fall, and since it's the perfect time to go on adventure, you love it even more.
When summer is over, everyone goes back to school. This makes fall the ideal season for you to take a trip. You can avoid high season crowds and prices. You can also avoid sunburn. Head to the pumpkin patch with your girls, try your hand at apple picking with bae, or head to the mountains with your pooch for the weekend. This is the ultimate season to hit the road, so these captions will perfectly capture your wanderlust.
1. "Totally FALLing for you." — Unknown
2. "It's officially sweater weather." — Unknown
3. "Spice, spice baby." — Unknown
4. "You better beLEAF it!" — Unknown
5. "Fall so hard mother pumpkins wanna spice me." - Unknown
6. "Hit the road, Jack." —Unknown
7. "What's up, witches? " — Unknown
8. "Sweater weather is better together." — Unknown
9. "It's fall, ya'll." — Unknown
10. "You're my adventure boo." — Unknown
11. "Trick or treat yo' self." — Unknown
12. "#Givethanks" — Unknown
13. "I love fall most of all." — Unknown
14. "Fall is officially here, my dear." — Unknown
15. "Fall has always been my favorite season. The time when everything bursts with its last beauty, as if nature had been saving up all year for the grand finale." — Lauren DeStefano
16. "And so the adventure begins." — Unknown
17. "Oh so breezy." — Unknown
18. "Big wheels keep on turning." — Lynyrd Skynyrd, "Sweet Home Alabama"
19. "And all at once, summer collapsed into fall." — Oscar Wilde
20. "Pumpkin spice is my vice." — Unknown
21. "LEAFing summer behind for fall." — Unknown
22. "My pup-kin." —Unknown
23. "A fallen leaf is nothing more than a summer's wave goodbye." — Unknown
24. "Even the leaves fall for you." — Unknown
25. "Everyone must take time to sit and watch the leaves turn." — Elizabeth Lawrence
26. "Autumn… the year's last, loveliest smile." — John Howard Bryant
27. "Basic witches." — Unknown
28. "Stressed, blessed, pumpkin-obsessed." — Unknown
29. "Autumn skies and pumpkin pies." — Unknown
30. "Let's get away this fall." — Unknown