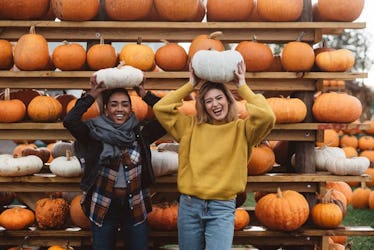 The 6 Best Fall Festivals In The U.S. Are #InstaGoals
It's practically fall, and you know what that means, right? It's time to celebrate. Fall gives everyone a reason to get festive and indulge in all things pumpkin spice. Seriously though, how could you not love this time of year? You're finally able to prep your best Halloween costumes and favorite Thanksgiving recipes. You get to pull out the coziest sweaters and cute ankle boots to make the ultimate fashion statement on your 'Gram. It's prime time to bask in what seems like the perfect weather. So, in celebration of all things autumn-related, these fall festivals in the U.S. deserve a spot on your bucket list.
It's amazing to see the transition from summer to fall as the leaves change right before your eyes. Summer is great, but there's nothing like fall. It's time to head back to school or start your new big girl job. Autumn brings plenty of change into your life, and you can't help but get excited about it.
There are plenty of festivals across the country that will help you get into the fall spirit. You'll be picking pumpkins, sipping warm apple cider, and cozying up to a warm bonfire at some of these fall festivals to ring in the new season.