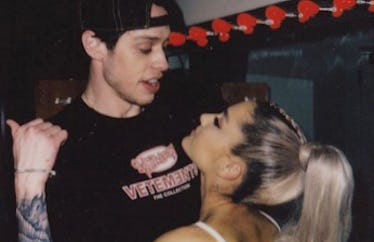 Ariana Grande & Pete Davidson's Response To #PeteDavidsonIsOverParty Has Fans So Conflicted
Instagram / Pete Davidson
I know you might be temporarily distracted by Hailey Baldwin and Justin Bieber getting engaged, but let's not forget WTF is going on with Pete Davidson and Ariana Grande. Since coming out as a couple, the singer and comedian have been fast and furious showing the world how committed they are to one another. However, their romance hit its first bump when fans began tweeting out the hashtag #PeteDavidsonIsOver for, well, a number of reasons. However, Ariana Grande and Pete Davidson's response to #PeteDavidsonIsOver shows the two celebs are taking it in stride.
Let's dive in, shall we? In summary: Davidson and Grande went public with their relationship around the end of May 2018. By June 13, they were reportedly engaged. They had matching tattoos, posted gag-inducing, lovey-dovey Instagram pictures together, and for all intents and purposes, seemed unbothered, uninhibited, and foot-loose-and-fancy-free of life's woes. Of course, nothing gold stays and an old, super inappropriate joke Davidson once made about the horrific Manchester attack at Ariana Grande's concert resurfaced. According to Mirror, Davidson "joked" about Grande's level of fame by saying, "Britney Spears didn't have a terrorist attack at her concert," during a stand-up set at a charity event last October. Elite Daily reached out to Davidson's team for clarification about the joke, but did not hear back by the time of publication. Regarding his Manchester comment, Grande did respond on Twitter by posting the following message to a concerned fan:
this has been v tough & conflicting on my heart. he uses comedy to help ppl feel better ab how f-ed up things in this world are. we all deal w trauma differently. I of course didn't find it funny. it was months ago & his intention wasn't/ is never malicious but it was unfortunate
Well, Twitter got one sniff of Davidson's comment (paired with the radical attention shift to the Biebs and Hailey Baldwin's engagement) and #PeteDavidsonIsOver was born. Behold:
As for the hashtag, Grande seemed to sarcastically get in on the fun proving once again she's ride or die with her new bae.
On Monday, July 9, Davidson shared a birthday picture on Instagram for his friend and actor Douglas Booth. In it, Booth is kissing his cheek. (It's, like, a boring photo. Nothing really to see here.) BUT THEN - to thicken the plot, Grande posted the comment, "is there sumthing ur not telling me? #petedavidsonisover."
Davidson replied, "@arianagrande pete davidson been over. you're late to the party."
Cue the outrage.
Stick with me here, folks.
This is what has everyone so upset: Some fans think that by playing into the hashtag joke that was started because of Davidson's comments about the Manchester attack, Grande is subsequently also minimizing the attack and diminishing the hurt those affected by the tragedy felt thanks to Davidson's words. His playful response to her comment on Instagram only heightens the appearance that he does not truly care or feel remorse for what he said. Elite Daily reached out to Grande and Davidson's teams for comment but did not hear back by the time of publication. One user on Twitter did their best to break the drama down, and Grande explained her position as well.
However, it looks like it could be a misunderstanding on Grande's part and Davidson's part. Grande is saying she was trying to make a joke that it looks like Davidson is leaving her for Douglas Booth in the photo, and therefore, in this case, #PeteDavidsonIsOver is referring to her relationship. Davidson (and maybe Grande?) seems to not really be grasping the severity of, like, anything.
The truth is, these two are just too damn famous to be this loose with their words. If they are, the public is going to jump all over it.
I'm standing by to see what happens next in the #PeteDavidsonIsOverParty, but also, I still have my other eye on what's going on over there in Beiber/Baldwin Land.
Ah, celebrities. They're so not just like us.