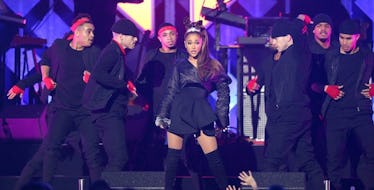 Is Ariana Grande OK? Her Manchester Concert Was Stopped Due To "Explosions"
Catrina Maxwell/Getty Images for iHeart
News broke Monday evening that a "serious incident" had taken place during Ariana Grande's London leg of her world tour.
UPDATE: Manchester police revealed Tuesday morning that at least 22 people are dead and about 60 injured after a lone bomber detonated an improvised explosive device outside an Ariana Grande concert in Manchester, England. The attacker is deceased and police believe he acted alone. According to CNN, authorities are investigating whether the attacker was part of a broader terror network.
Here's how you can help victims of the attack, which is the deadliest Britain has seen since the 2005 London bombing.
Grande was not injured at the concert and tweeted after the event: "broken. from the bottom of my heart, i am so so sorry. i don't have words."
EARLIER: Following the news of the attack, fans are rightly worried about the star, and are taking to whatever forms of social media they can to ask is Ariana Grande OK.
According to reports from The New York Times, people attending Grande's concert at the Manchester Arena reported "what sounded like explosions at the end of the show," and according to early reports from The New York Times, police have already reported "multiple deaths and injuries" from the scene, thought it's incredibly important to point out that police are still investigating what happened and are trying to usher as many people from harm's way as possible.
Though it's still too early on to tell exactly what happened at Grande's Manchester Arena tour performance, what caused it, and more importantly, who was behind it (if anyone), details trickling out paint a picture of terror, horror, and fear. According to Grande's publicist, Joseph Carozza, Grande is "O.K." following the reported explosion. Carozza noted that, "We are further investigating what happened."
Elite Daily reached out to Grande's publicist for further comment, but did not yet hear back at the time of publication.
According to The Guardian, which is publishing live updates following the initial reported explosion, concertgoers have evacuated and are taking refuge at locations nearby. A barman nearby the area told The Guardian of the reported explosion:
We felt something but didn't know what it was - there was a sound like thunder. One girl had a panic attack and another had streaming tears, a woman had a heart attack just outside.
In the aftermath of the news, fans have taken to social media to express their concern for the star:
In an interview with The Guardian immediately following the explosions, Jade Baynes was reportedly told to "run from the area" by armed police after leaving the venue. She said she heard "loud bangs" and "what sounded like gunshots just after the entertainment had finished," though the cause of the explosion has yet to be confirmed. Baynes added: "There were just a loud bang and a flash and everyone tried to scramble out. An alarm came on telling everyone to stay calm but leave as quickly as possible."
Right now, as details become available, it's important to direct all our thoughts to the victims, to Grande, and to the first responders and officials working to get everyone safely from the venue and out of harm's way.