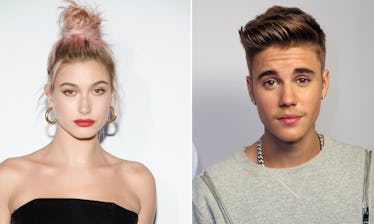 Justin Bieber Confirmed His Engagement To Hailey Baldwin & Twitter Is In Love
PASCAL LE SEGRETAIN & ARI PERILSTEIN/GETTY IMAGES ENTERTAINMENT/GETTY IMAGES
Still swooning over those reports about Justin Bieber and Hailey Baldwin's engagement? Well, just wait until you see what I have to show you. The Purpose singer confirmed the news on July 9, and the tweets about Justin Bieber and Hailey Baldwin confirming their engagement are nothing but joy.
Bieber announced the news in an adorable tribute to his model-girlfriend on Instagram, calling Baldwin the "love of his life," and it'll really pull on your heartstrings.
He wrote in part: "Was gonna wait a while to say anything but word travels fast, listen plain and simple Hailey I am soooo in love with everything about you!"
Bieber continued:
You are the love of my life Hailey Baldwin and I wouldn't want to spend it with anybody else. You make me so much better and we compliment eachother so well!! Can't wait for the best season of life yet!. It's funny because now with you everything seems to make sense! The thing I am most excited for is that my little brother and sister get to see another healthy stable marriage and look for the same!!!
Fans immediately started gushing over the post on Twitter, and TBH, the tweets are some of the sweetest reactions you might ever see.
A few people were even moved to tears.
We are the same, @mogirlprobs.
Bieber and Baldwin reportedly got engaged on Saturday, July 7 while they were vacationing in the Bahamas together, according to eyewitnesses who claimed to TMZ that they saw the ordeal go down. The sources said right before Bieber popped the question, the security detail had asked everyone to put their phones away. Then he reportedly proceeded to ask Baldwin to marry him in front of everyone at the resort. Elite Daily reached out to reps for both Baldwin and Bieber at the time for confirmation on the reports, but did not receive word back.
Even so, we probably could've seen this engagement coming, considering Bieber had previously been pretty candid about possibly marrying Baldwin back in 2016. During an interview with GQ, the "Love Yourself" singer referred to his girl as "someone I really love," before adding:
What if Hailey ends up being the girl I'm gonna marry, right? If I rush into anything, if I damage her, then it's always gonna be damaged. It's really hard to fix wounds like that. It's so hard. I just don't want to hurt her.
Although Bieber saw a serious future with her, he continued on to express just how committed he was to making sure he would treat Baldwin as she deserves to be treated before taking such a huge step, saying:
I don't want to put anyone in a position where they feel like I'm only theirs, only to be hurt in the end. Right now in my life, I don't want to be held down by anything. I already have a lot that I have to commit to. A lot of responsibilities. I don't want to feel like the girl I love is an added responsibility. I know that in the past I've hurt people and said things that I didn't mean to make them happy in the moment. So now I'm just more so looking at the future, making sure I'm not damaging them.
Flash forward to the present, and he's seemingly taken his time to prepare himself for marriage and ensure that he'll never hurt or damage her. I declare this our new standard for #CouplesGoals, ladies and gents.
But in all seriousness, I could not be happier for these two, and I can't wait to see what the future holds for them. Congrats, Biebs and Baldwin!