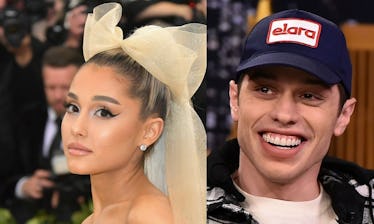 Ariana Grande Nursed Pete Davidson Back To Health After Surgery & It's Cute AF
NEILSON BARNARD/GETTY IMAGES ENTERTAINMENT/GETTY IMAGES | THEO WARGO/GETTY IMAGES ENTERTAINMENT/GETTY IMAGES
Send all your love and well wishes to Pete Davidson, because he just had his wisdom teeth extracted, which — I think we all can agree — sucks. From the uncomfortable swelling that can follow in the days after to excruciating levels of pain, it's not a pretty process. But luckily, Ariana Grande nursed Pete Davidson after his wisdom teeth surgery, and it's so, so cute.
Both Grande and Davidson took to Instagram on Friday, July 13, to share photos of the comedian recovering from his surgery. One particular photo, shared by the Saturday Night Live star, showed him lying sound asleep, with his mouth wide open and thick medical bandages wrapped around his head. The "God Is a Woman" singer is shown pouting at the camera, presumably because her beau just looks so helpless, with her puppy dog eyes front-and-center. Davidson, however, tried to make light of the situation, hilariously captioning the moment, "Why did my doctor put this thing around my face like it's the 20s?"
In another moment, shared by Grande on her Instagram Story, the two are riding in a car post-operation, where she plants kisses on his bandage-wrapped head. Although Davidson appears to be pretty out of it, he gives just the slightest grin, as if knowing he's in great care.
So goals. *Swoons.*
Part of what makes this so cute is that — despite their apparent whirlwind romance — Grande and Davidson have already been there for each other throughout some of their most difficult times. According to People, their hardships are actually what made them closer, including the Manchester Arena concert terror attack that occurred at Grande's concert in May 2017.
Grande opened up about the effects the attack left on her in her August 2018 cover story for Elle magazine. In the interview, the singer revealed that she'd struggled with dizzy spells, mood swings, and anxiety in the aftermath of the tragedy, saying:
When I got home from tour, I had really wild dizzy spells, this feeling like I couldn't breathe. I would be in a good mood, fine and happy, and they would hit me out of nowhere. I've always had anxiety, but it had never been physical before. There were a couple of months straight where I felt so upside down.
Davidson had also been through a terror-related incident: He lost his dad in the September 11, 2001, attack on New York City. The tragedy recently inspired Grande to get a tattoo in honor of Davidson's father. She got the number "8414" tattooed to herself, which Davidson has also had inked on his left arm for quite some time. The number represents his father's New York City Fire Department badge.
The couple's challenges are reportedly what brought them together, and led to their recent engagement. When reflecting on Grande and Davidson's quick romance in June 2017, a source told People:
They've both been through hardships so that's something they definitely have in common. They've both dealt with some dark stuff at a young age ... Everyone around them is super supportive and happy that they've found love.
The insider continued, "They're just two people who found love quickly and make each other happy all the time."
Elite Daily reached out to both Grande and Davidson's teams for comment on the report, but did not hear back by the time of publication.
Say what you want about Davidson and Grande, but their abilities to support each other throughout some of the most difficult times — busy schedules and all — show that they're in it to win it. If you ask me, they couldn't be more of a perfect fit.