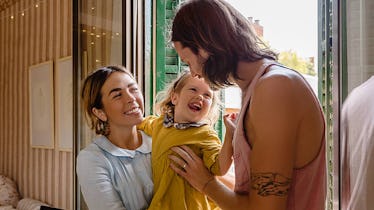 Are They Ready To Meet My Parents? This Is How Experts Say You Can Tell Your Bae Is Down
A crucial question to ask in any relationship is, "Are they ready to meet my parents?" Sometimes, even more importantly, "Am I ready to introduce them to my parents?" The answer to these questions can vary per relationship. For some, meeting the parents takes place way down the line, when the relationship is serious enough to bring them home. For others, like myself, meeting the parents can be almost immediate.
My boyfriend met my parents the week after he met me. Granted, we weren't really anything at the time, just testing the waters, but regardless, it happened right away, and we're still standing almost 10 months later. If you don't fall under either of these categories, maybe you fall somewhere in between — three months in or even a year in. The point is, meeting the parents should take place when you're both ready — it's entirely up to you.
There's always the chance that your partner may feel ready to meet your parents, but not ready to introduce you to theirs. Try not to take this personally. Everyone has their own set of parameters. It's not you, it's them. If you're not sure whether your partner is ready to meet your parents, take a look at these indications that they're absolutely up for it.