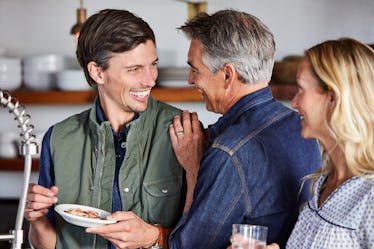 5 Clear Signs Your Partner Really Wants To Meet Your Family
It may sound strange, but I actually love meeting the parents. Instead of being nervous, I'm just really curious to see what my partner's family is like and get more insight into how it shaped them. And not to mention, there is usually some free food involved, and who doesn't love a good home-cooked meal, am I right?! If I'm even remotely serious about my partner, I'm pretty down to meet their folks as soon as everyone else is ready. So when it comes to recognizing signs your partner wants to meet your parents, I typically try to think about how I act around the subject, which basically boils down to being chill about it.
While I may not sweat that first introduction, I realize I'm not the norm. For a lot of people, the family introduction can be a big deal and a high-pressure situation, so it may take some time for your SO to feel ready. If you're thinking about bringing your partner home for the first time, their readiness is just as important as yours, and it's important to keep an eye out for signs they're down to take that step. For more insight into these signs, Elite Daily contacted NYC relationship expert and love coach Susan Winter to help break down the behaviors that indicate your SO really is ready to meet the fam. Here's what she says to look for.