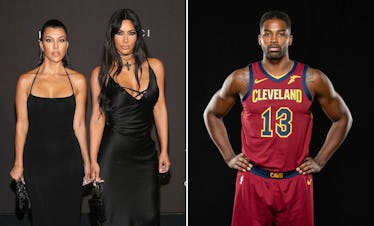 The Kardashians May Not Be As Friendly With Tristan Thompson As They're Letting On
Jesse Grant/Getty Images Entertainment/Getty Images & Jason Miller/Getty Images Sport/Getty Images
This might surprise you, but things are reportedly not ideal between Tristan Thompson and the Kardashian family. (That was sarcasm in case you missed it.) Ever since Thompson cheated on Khloé Kardashian, the NBA player has been in the hot seat with fans and her famous family. Fans watched as the scandal played out on the current season of Keeping Up With The Kardashians in wonder as Khloé's family came face-to-face with Thompson in the delivery room during the birth of his and Koko's daughter, True. Now, everyone is asking — are the Kardashians friends with Tristan Thompson? Based on a new report, not really. Based on common sense, hell no. Elite Daily reached out to the Kardashians' team for comment on their status with Thompson but did not hear back by the time of publication.
Can we talk freely for just a minute? If my sister's boyfriend cheated on her at any time in their relationship let alone during her pregnancy with their baby, he'd be dead to me. Now, add a wild amount of fame and publicity to their lifestyle with a pinch of public input and you have a recipe for full-on chaos. However, Khloé has made it extremely clear to her family and fans that her focus is on finding peace with Thompson for the sake of their daughter. Initially, reports claimed she was doing everything she could to make it work with Thompson, despite the outcry for her to call things off.
KUWTK fans saw Khloé's big sis Kim get into a social media battle with Thompson when he unfollowed her on Instagram. Later, Kim tried to make peace with him and sweep their petty back-and-forth under the rug. For all intents and purposes, it's looked like everyone has moved on from an outsider's perspective. But now, a new source says "nope," claiming the family's behavior has just been a facade for the sake of Khloé. In reality, the Kardashians are reportedly faking it big time with Thompson.
An insider revealed to People magazine, "Everyone is trying to be civil and nice since Khloé wants them to. Khloé just wants to be supported in the decisions that she makes regarding Tristan." They added, "She always understood that her family was very upset and defensive after he cheated. That situation was such a nightmare for Khloé at a time that should have been her happiest."
According to the source, the Kardashians are willing to "play nice" but "it doesn't mean that they think Tristan is a great guy." Apparently, they think Khloé "could do much better."
Right. Same.
"Khloé has asked for them to respect whatever decisions she makes for her family, and that's what they are doing right now," said the insider.
At the end of the day, it really is Khloé's call. Sigh. As much as fans feel connected to her, her family, and the situation with Thompson, it's still her life. She just has to live it on on TV, which makes this sh*t complicated.