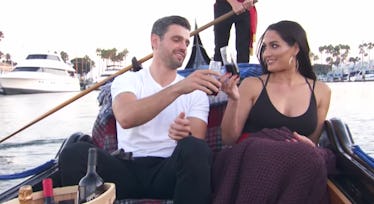 Nikki Bella May Be Moving On From John Cena With This Reality Star
YouTube
Is there anything more disorienting than when two reality TV worlds collide? It's like when you run into someone from high school on vacation in a different country. That's how it felt when Peter Kraus of Bachelorette fame popped up in a Total Bellas teaser. Now, fans are wondering, "Wait a second... are Nikki Bella and Peter Kraus dating?" Well, they definitely go on a date. I don't know. I'm shook, too.
Anyone who keeps up with the Total Bellas series is well versed on Nikki Bella's love-life. Over the past six years, she and her ex-fiancé John Cena have been through the relationship ringer. The longtime couple struggled making decisions on their future and fans watched with a mix of horror and wonder as it all played out on TV. Bella wanted kids. Cena didn't. Then Bella wanted to break up, and Cena didn't. Then, Cena changed his mind and was like, "Sure, I'd have kids one day," and Bella was like, "I just don't know what's going on anymore."
Now, Bella's being filmed riding a gondola with Peter Kraus.
What a life.
Reality TV fans will definitely remember Kraus from Rachel Lindsay's season of The Bachelorette. Kraus was the fan-favorite by a long shot, but shocked viewers when he wasn't ready to commit. Then, people thought he'd be the next Bachelor but that ship sailed into a dramatically produced TV sunset. So, where's he been? Apparently, he's been watching Nikki Bella body slam other wrestlers and loving it.
In the new Total Bellas teaser, Nikki's sister Brie explains Nicole gave her permission to set her up on a date. I don't know the specifics of how or why Brie had Kraus' phone number, but does it really matter at this point? Everyone besides Nikki seems totally pumped at the prospect, though she admits she "feels like she's fifteen."
To be honest, the date itself looks a little forced (a la The Bachelor, obvi). Peter and Bella float around in a romantic gondola, forcibly clink wine glasses, and then eventually end up on a couch where Peter goes in for the kiss. Viewers hear a voiceover from Nikki explaining, "I don't know if I'm ready for this."
TBH, me neither, but here we all are.
At the end of October, Nikki told People magazine the pressure to jump back into dating after being with Cena for so long is frustrating. For her, it still feels like it's too soon to dip her toes in the relationship pool.
"It feels like, you know, when you get married and the next day people are like, 'When are you having kids?' and it's like, 'I just got married.' I feel like it's the same thing," she said. "When you become single, it's like, 'Oh, are you dating?!' Honestly, I'm so not interested. I'm just not ready yet."
OK, fair enough. I just want to say Peter Kraus' jawline might make anyone feel differently.
Peter, if this doesn't work out, you can find me in your DMs.