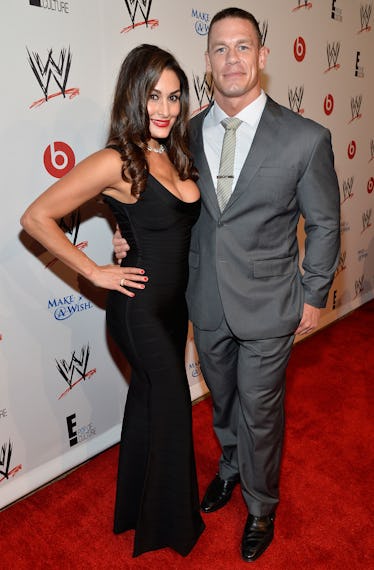 John Cena Finally Agrees To Have Kids With Nikki Bella In This Emotional New Video
Frazer Harrison/Getty Images Entertainment/Getty Images
Nikki Bella and John Cena have had me in a whirlwind of emotions recently. They're in love, but they've broken up. They've called off their engagement, but they still want to be together. They can't see life without each other, but they want different things in life. It's emotional overload, and I'm just finding it a little more than difficult keeping up. But the reason that the pair ultimately called off their engagement was that Bella wanted to become a mom, and Cena has always been pretty adamant that he didn't ever want kids. It's heartbreaking, but it's understandable. But now, there's a new video of John Cena winning Nikki Bella back by revealing that he is willing to have kids all so that her dream of becoming a mother could be a reality. Are you crying yet? Because I'm crying already.
In an exclusive clip of Sunday's all-new Total Bellas from E! News, we see Nikki Bella and John Cena out at a restaurant, seemingly trying to hash out the issues in their relationship. Of course, the topic that comes up is the idea of having children. Bella candidly explains to Cena that having kids keeps a marriage from getting boring. "I see the point of kids after you've been with someone for so long," Bella said to Cena, but Cena took that as her way of seeing that she'll get "bored" of him if they don't have children.
"Say I was like, 'Okay we're going to have kids,' and we do and you find out that wasn't the real problem," Cena said. "And then years from now you look at me and resent ... I don't know if you're just upset that you're not going to be a mom or if you've fallen out of love with me. Because it kind of feels like both."
There is nothing that makes me want to go hug a puppy more than when a strong man says really vulnerable things. It's freaking kryptonite.
Bella seemed surprised at Cena's admission, but tells him that she just wants "to be a mom." She then told Cena her thoughts, saying,
I feel like there's so much more I want to do with you and experience with you. It's just wanting to be a mom and knowing you will not be a dad. I've just come to the realization that I'm not okay with it.
Now, what we're used to seeing is Cena telling Bella that giving her children is just not something he is comfortable doing.
UNTIL NOW!
That's right, ladies and gents. We have finally reached the moment where Cena decides to completely alter his stance on children for the sake of making Bella happy. He said,
So it's literally just about being a mom? Okay, because I can't have you out of my life, ever, and I want to marry you. Relationship and marriage is about sacrifice, and I will make that sacrifice for you. I will give you a child.
WHUT. THE. WHUT.
I mean, this is a life-altering revelation (that could have prevented all the drama in the first place if it was figured out sooner, but I guess that's neither here nor there) and it's quite honestly as much a surprise to Bella as it is to their fans. I know I certainly didn't see this one coming.
Watch the entire clip below — and check out Bella's stunned face right at the end of the video:
Does this mean that the pair is totally back together, ready to get married, have babies, and live happily ever after? While there hasn't been any concrete confirmation or update on their relationship, I'm keeping my fingers crossed that that's where they're headed.