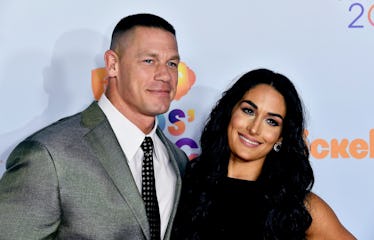 This John Cena & Nikki Bella Relationship Update About Their Engagement Is So Upsetting
Frazer Harrison/Getty Images Entertainment/Getty Images
John Cena and Nikki Bella are going through all kinds of things right now. The two pro wrestlers, who were scheduled to marry in May 2018, split up back in April and then reportedly swiftly got back together. Since then, fans have been wondering one thing: are John Cena and Nikki Bella engaged again? Unfortunately, according to Us Weekly, they aren't just yet.
In a new report from Us Weekly, an insider source revealed that Bella and Cena are not exactly hurrying back into marital bliss. Instead, the couple is taking their time:
There has been no discussion about a wedding. They're not officially engaged again. They are working on their relationship day by day. There's nothing going on more than them trying to figure out their situation.
Elite Daily reached out to both Bella and Cena's teams regarding this new report, but has not heard back at the time of publication.
In any case, it makes total sense that Bella and Cena would take their time figuring out the state of their relationship. A lot of drama went down, after all. And now Bella is trying to understand what she wants.
Back in April, a source close to the couple explained to Us Weekly what Bella's state of mind was at the time of their split:
She's in a place where she's just exhausted by some of the things going on in the relationship. John is the love of her life, she adores him. Right now, she has to focus on herself.
Elite Daily reached out to Cena and Bella's teams about the report, but did not hear back by the time of publication.
For those of you not aware of what happened between Bella and Cena, here's what you need to know: the couple got together back in 2012 and were set to marry in May 2018. But over the course of their six-year relationship, they had trouble figuring out whether they both wanted children. While Bella wanted to be a mom, Cena wasn't too keen on being a dad. This naturally caused a rift between them and they called off their impending wedding.
Since then, Cena has backtracked quite a bit, saying that he'd love to have kids with Bella:
I love her. I want to be with her. I want to make her my wife. I want to be the father of her children. I just want us to work.
So, now the two are reportedly back together and working things out. And everyone is wishing them the best of luck. Even Bella's sister, Brie, is hoping everything works out for them in the end:
I feel like there will be a happy ending. But, I hope the happy ending is just them both happy whatever path that leads them … I think I'm just so used to them and he's been in our family for the last six years. There might come a day where that will happen and it'll be weird for me at first, but I'll adapt.
Brie also explained that hearing Cena change his mind on having children was a huge sigh of relief for her sister:
To hear the man you love say that, it makes you be like, 'Ugh, finally.' But also it's taken six years to want that and six years of hearing 'no, no, no.' So it's a lot for her to think about. There's just stuff they have to work out.
Elite Daily reached out to Bella and Cena's teams about Brie's statements, but did not hear back by the time of publication.
Wow, so there's definitely a whole lot going on behind the scenes. At least Bella and Cena are doing what they can to work through their relationship issues. With any luck, they'll be back on track and find themselves in a healthy enough head space to make their dreams of having a family come true!