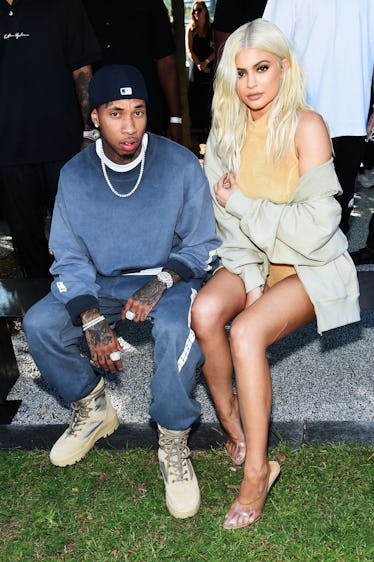 This Detail On Tyga's Instagram Reveals A Lot About Where Things Stand With Kylie Jenner
Jamie McCarthy/Getty Images Entertainment/Getty Images
In theory, there's a day when I'll be done being entertained by the Kardashians' social media drama, but today is not that day. Following the Kardashians and their inner circles on Twitter and Instagram is my literal job, and there is always something new and weird there to dissect. Today, it's about Kylie's ex-boyfriend. Are Kylie Jenner and Tyga still friends? There's a tiny detail on Tyga's Instagram account that has me raising my eyebrows, and it might give fans some insight into where he stands with Jenner these days. Ya know, if you're wondering about Tyga at all, that is.
Obviously, Kylie Jenner has been distracted with just a few things in her own life. Hiding a ninth-month pregnancy and delivering her first child have had her pretttty distracted. She's also been enjoying her relationship with Travis Scott and getting used to motherhood. All of that said, it seems like Tyga is still lurking in the corners.
As recently as March 7, Tyga threw a hilarious and weird bit of shade at Jenner's big sis Kim Kardashian. Kardashian was recently traveling in Japan with her sisters when she stopped to take a moody picture by a train station in Kyoto. However, Kardashian had a typo in her caption and misspelled Kyoto as "Keyoto." In a funny turn of events, Tyga was there to help her with spellcheck.
Kardashian apparently saw and took the note, because she corrected the error.
This made me think, "Wait a second. What other Kardashians are still on Tyga's radar?" When I went to see who he is following on Instagram, I learned two things: He only follows 533 people in total, and four of them are Kris Jenner, Kim Kardashian, Kendall Jenner, and Scott Disick. (Sorry, Kourtney and Khloé.)
He also is NOT following Kylie.
Let's break this down. Here's my biggest theory: Maybe Tyga likes to follow Kris Jenner and Kim Kardashian because they're arguably the center of the family empire and he wants to keep tabs on what they're up to. As for Kendall and Scott, maybe he was closest to them when he was dating Kylie and that's why he checks in on them time to time?
Kylie is also no longer following Tyga on Instagram and has shown no signs of looking back. In fact, Kim Kardashian once admitted that Kylie's break up with Tyga was "so easy" for her little sister.
In Kylie's spinoff television series, Life Of Kylie, the reality star suggested she didn't want to grow up too fast or regret missing her teenage years. Some people thought this was her reasoning behind breaking up with Tyga. Of course, we know she quickly transitioned into a new serious relationship, and then shortly after that, became pregnant.
Tyga reflected on his relationship with Jenner on Complex's web series. He said,
It was a relationship that was in front of the world and that was it ... She has her new life and I have my new life, and that's it. There's no bad blood or problems.
Prior to Jenner's pregnancy with Scott, Tyga also told Power 105.1 The Breakfast Club,
I have love for her, but I'm not in love no more… When you're with anybody that first year, it's magic and then after that you start realizing a bunch of sh*t. I think the main thing was a lot of people — a lot of outside influences — and… she's younger than me and she's dealing with perception. I'm older so I can deal with perception. But for her, growing up how she grew up, image and perception was everything.
From where I'm sitting, the perception now is that you're low-key still interested in what Kylie's up to by following some of her family members, Tyga.
Just sayin'.
Check out the entire Gen Why series and other videos on Facebook and the Bustle app across Apple TV, Roku, and Amazon Fire TV.