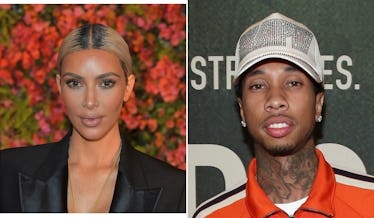 Tyga Left A Comment On Kim Kardashian's Instagram & It's So, So Shady
Kim Charley/ Gallay/Getty Images Entertainment/Getty Images/Jonathan Leibson/Getty Images Entertainment/Getty Images
I'll admit it: I absolutely love grammar. I'm the friend who tells you the difference between "your" and "you're," and I'm the person who cringes when a text message contains no punctuation. Do I think that people may find that annoying? Yes, but it looks like I'm not the only person who's a part of the grammar police, because Tyga's comment on Kim Kardashian's Instagram shows he's here to school Kim... and maybe throw just a teeny bit of shade.
Look, I understand that nobody is perfect. I also understand that there are many people who might excel at one thing, and couldn't care less about another. For me, my strength has always been English, and my weakness has always been literally everything else. So I'm definitely not here to judge, OK? OK.
So here's the scoop: Kim Kardashian took to Instagram on Tuesday, March 6, posting a photo of herself looking fly as hell. Her hair was in a messy bun, wearing a puffy-looking jacket and what looks to be black leggings. (Not sure how she can wear that and look cool, but if I re-created that look, I'd look like an absolute slob. Life can be so unfair.)
Apparently, though, her caption had a bit of a typo, and who other than our good friend Tyga came in to give Kim K some spelling lessons. Kim's original caption said, "Train 🚊 Station in Keyoto 🇯🇵," but the Japanese city is actually spelled "Kyoto." And guess who was there to call out Kim's typo?
Yup, that would be Tyga.
Ah yes, note that he used the classic *asterisk* when someone spells a word incorrectly. That's one of my favorite pastimes, too, Tyga.
It looks like Tyga's schooling worked, though, because when you go to Kim's Instagram page, her post no longer reads "Keyoto," but uses the correct spelling of the city. So that means Kardashian must have seen Tyga's comment and changed her caption:
So, was Tyga simply being a good samaritan deciding to tell Kardashian her error? OR was he throwing some subtle shade her way?
Hate to be the bearer of bad news, y'all, but I'm pretty sure his intentions weren't super pure.
I mean, we all know that Tyga and Kylie Jenner were once a couple, but since the pair has broken up, these two didn't really remain the best of friends. After the two split, Jenner started dating Travis Scott, who is now the father of her daughter, Stormi. While they are by no means seemingly vicious to each other, it's pretty apparent that there was simply no more love left between Tyga and Jenner.
In an interview back in July of 2017 with Power 105.1 The Breakfast Club, Tyga said,
I have love for her, but I'm not in love no more… When you're with anybody that first year, it's magic and then after that you start realizing a bunch of sh*t. I think the main thing was a lot of people—a lot of outside influences—and… she's younger than me and she's dealing with perception. I'm older so I can deal with perception. But for her, growing up how she grew up, image and perception was everything.
He also stayed relatively quiet after the birth of Jenner's daughter, but did join Complex's web series in February and, when asked if he was still suffering from his breakup with Kylie, Tyga responded by saying:
It was a relationship that was in front of the world and that was it ... She has her new life and I have my new life, and that's it. There's no bad blood or problems.
So, while he seems to have moved on from his relationship with Kylie, perhaps he just couldn't resist to take a small dig at her sister for all the world to see.
While we may never know if Tyga meant well with his grammar lesson, we all at least learned one thing: Tyga is quite the intellect.
Professor Tyga is here, so class, please be seated.