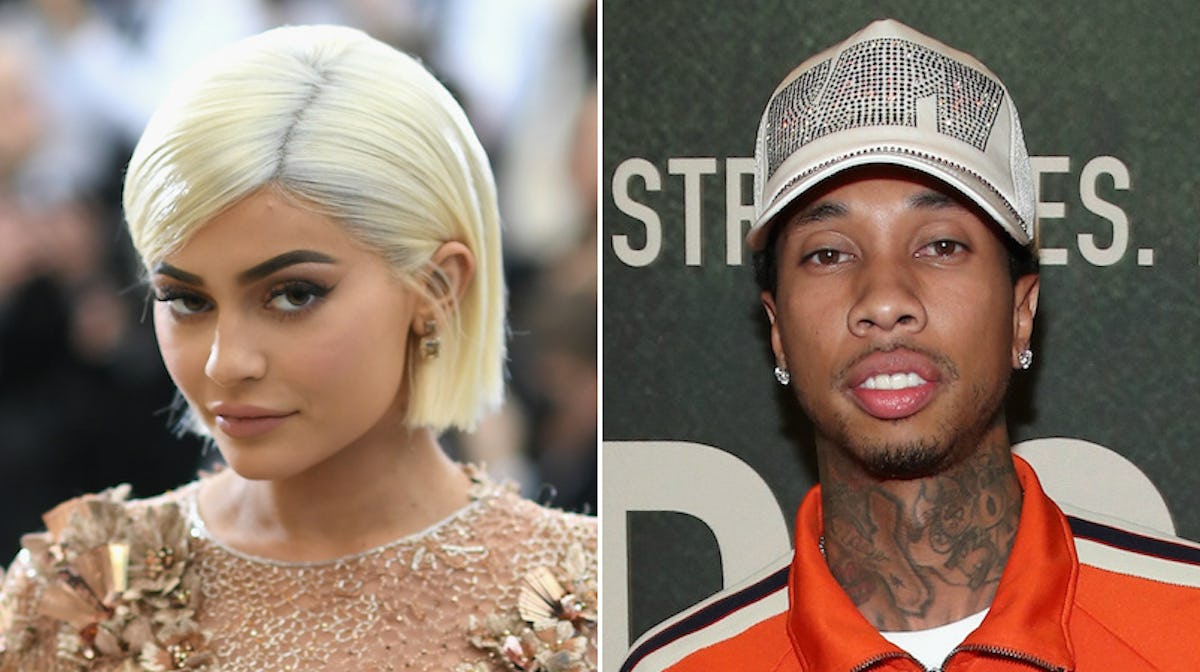 Tyga Finally Comments On His Relationship With Kylie Jenner & The Birth Of Her Baby
Dimitrios Kambouris/Jonathan Leibson/Getty Images Entertainment/Getty Images
Friends, the time has come at last. Tyga has finally spoken about Kylie's pregnancy! After what seemed like an eternity, Kylie confirmed her pregnancy by announcing the birth of her daughter, Stormi, on Feb. 4 (old news at this point, I know). But fam, I'm going to need you to stay with me here, because we're going to have to move back before we can move forward, OK? So, when we did learn about her pregnancy, we all were anxious to hear what Tyga, Jenner's ex-boyfriend, had to say about the whole thing. And you guys, we've got our answer. We finally heard Tyga's response to Kylie Jenner's baby news, and his answer is very interesting, but also not surprising if you ask me.
There's not a soul who could forget back in September when, shortly after news broke that Kylie was reportedly pregnant, Tyga took to Snapchat and posted a caption to the screenshotted headline that was, erm, very cryptic, in regards to reports that the youngest Kardashian was expecting.
He had fans pretty confused, because his caption read, "Hell nah that's my kid," alongside four little devil emojis at the end. Hm.
Well, that's weird, because Tyga was Kylie's former boyfriend, and at this point it seemed like there maybe was some kind of weird love triangle going on between Kylie, Tyga, and the reported baby daddy (rapper and songwriter, Travis Scott):
Was this a joke? Was this for real? Was he just looking for laughs? DAMMIT, Tyga, you can't do that to the universe and not expect us to dig for answers!
Obviously, everyone on social media reacted pretty hard to this tweet, which was deleted almost instantaneously by Tyga himself.
Fans were inevitably shook:
Some declared that this was a case that only Maury could solve:
While others were convinced that Tyga was simply hacked, and that his snap was obviously not coming from the rapper himself:
But now that we know all know about Kylie's pregnancy and birth, Tyga has finally commented on their relationship and how he feels with where she's at now in life.
When Tyga joined Complex's web series, he was asked if he was still suffering from the breakup with Kylie. He responded by saying:
It was a relationship that was in front of the world and that was it ... She has her new life and I have my new life, and that's it. There's no bad blood or problems.
Hey, that seems legit. A solid response.
But then he was asked if he was going to visit his ex and her new daughter, he laughed and said, "Ask me another question."
Boom. Roasted.
Honestly, Tyga's response is actually kind of understandable. He and Kylie did date, so he was seemingly cordial in his answering, even though they had quite a tumultuous relationship (given the fact that he was 27 and Kylie was only 17) and that seemingly caused a lot of rifts in each of their personal lives.
At the center of it all was definitely Blac Chyna, who is the mother of Tyga's son, who was reportedly furious over the pair's relationship. According to People, Blac Chyna's best friend Amber Rose went on-air with Power 105.1 to talk about the ordeal between Tyga and her bestie. And, in respect to Kylie, she had some words:
She needs to go to bed at 7 o'clock and relax. It's ridiculous. Tyga should be ashamed of himself. That's how I feel, for sure. He has a beautiful woman and a baby that he left for a 16-year-old who just turned 17.
Eesh.
Kylie's older sister Khloé clapped back after the interview, telling Amber Rose to basically sit down:
Needless to say, the drama didn't stop there, and to this day, it doesn't seem like all the dirty laundry is aired out.
But you know what? Now there's a beautiful baby in the mix, and I think it's about time we all put our grievances aside and focus on what's important, and that's Kylie, Travis, and lil' Stormi. Because babies make everything better.
See?!
So at the end of the day, it seems like Tyga is cool with everything, and now we can all live in peace and harmony.