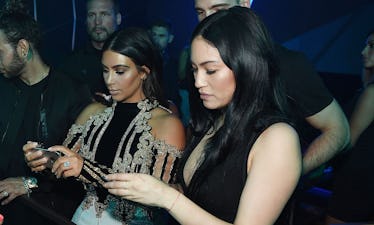 These Clues On Instagram Reveal A Lot About Kim K & Steph Shep's Current Relationship
Denise Truscello / Contributor / Getty
If I can be honest, I wouldn't wish the position of Kim Kardashian's personal assistant on anyone. It's not because I think she's a nightmare to work with or anything, but because I can't imagine what kind of pressure comes with a job like that. Keeping track of pop culture's number one celebrity must be excruciatingly complicated, and it's understandable if Stephanie Shepherd decided to move on. Still, fans have come to know and adore Kim's right-hand woman, and we're all wondering, are Kim Kardashian and Steph Shep still friends? Lord, I hope so.
Shepherd didn't really soar into America's hearts as much as she slinked in slowly from the background of Kim's Instagram pics. For four years, the brunette beauty worked closely with the Kardashian family as Kim's executive assistant, but was promoted to COO of Kardashian West Brands. Shortly after that, the two made the decision to end their professional relationship. It came as a slight shock to fans, as Shepherd fit in with the elite crowd so seamlessly. In fact, Shepherd's close friendship with Kourtney Kardashian became an ongoing plot line in the Keeping Up With The Kardashians series.
We all watched one noteworthy episode where the line between "friend" and "employee" blurred. Shepherd confided in Kourtney she felt limited in her role as executive assistant. At the time, Kim vocalized to Kourtney how she wished Shepherd went to her first instead of her sister. Kim said,
I do think it's inappropriate for her to talk to you and not to me. Don't you think that's a little unprofessional? That's like, a convo she should have with me.
After making the decision to go their professional ways, a source told People magazine Shepherd is "still friendly with the other sisters, but she and Kim aren't really speaking."
Other reports speculated it was Shepherd's growing fame that got under Kim's skin, though some insiders disagree. One source told US Weekly,
Kim and Steph are still friendly and still speaking. Kim wouldn't say that Steph thinks of herself as a celebrity. Kim respects Steph and wants her to do well.
Shepherd also attended both Kim and Kendall's birthday parties. An insider shared,
There isn't bad blood there. They still hang out and are friends, but they have gone their separate ways and are not working together anymore.
According to their interactions on Instagram, this seems to check out. As recently as Dec. 31, Shepherd commented on one of Kim's KKW Beauty Instagram pics. She left a series of hand clapping emojis on one of Kim's promotional posts for her Ultralight Beam makeup.
Shepherd also gave some love to Khloé Kardashian on her baby announcement, demonstrating she's still in touch with the whole family. Plus, she still seems to be in touch with extended members of the Kardashian tribe, like their longtime makeup artist, Joyce Bonelli, and hairstylist, Jen Atkin.
Shepherd recently posted a fierce selfie rocking some serious red lips, which caught the attention and a "like" from Bonelli.
Then, one week ago on Dec. 28, Atkin commented on a picture of Shepherd in a bathing suit, saying, "I'm borrowing this suit next week." This means they might be hanging out as we speak.
I can't say for certain, but I suspect if you're out with the Kardashians you're really out. And, that doesn't seem to be Shep's case.
We'll keep our eyes peeled for more developments when Keeping Up With The Kardashians continues, and best of luck to Steph in literally whatever she is doing now!
Check out the entire Gen Why series and other videos on Facebook and the Bustle app across Apple TV, Roku, and Amazon Fire TV.