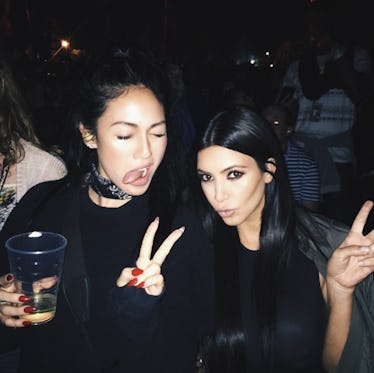 The Story Of How Steph Shep & Kim Kardashian Met Is Actaully Really Sweet
Instagram/steph_shep
Some things are just better together: peanut butter and jelly, margaritas and salted rims, Stephanie Shepherd and Kim Kardash – um, I'm sorry, what's that? Steph Shep and Kim K are reportedly no longer friends? Why must 2017 end on such a bad note? Apparently, Kim and her ex-assistant have cut ties with each other, and it sort of feels like the end of an era. So, how did Steph Shep and Kim Kardashian meet in the first place? And what caused the pair to dissolve their seemingly perfect friendship?
I'm going to take you back to a simpler time: a time where we weren't spending every waking moment wondering which Kardashian is pregnant or speculating who might be left out of the Kardashian holiday card. A time where things for us Kardashian fans felt effortless. Can you picture it now?
It's 2009, and Stephanie Shepherd moved to California, where she was hired as an assistant to Real Housewives of Beverly Hills' Erika Girardi by her dance choreographer Mikey Minden. In an interview with Refinery 29, Steph Shep talks about her upbringing, and the beginning of her career as a celebrity assistant. She said,
When I say I came from a small town, I mean that I would pass cows driving to school. It was country life: bonfires and football games. Our nicest restaurant was Olive Garden. So when I came out here, it was a whole different thing. I had never seen a Range Rover. I hadn't really traveled, I didn't know what Givenchy was or how to pronounce it. Mikey and Erika took me under their wing and taught me everything. We traveled the world together. They both opened my eyes to so much, about being a hard-working, meticulous assistant, yes, but also just all the things life can offer.
This was her foot in the door – the job that ultimately got her noticed among the Kardashian clan. Fast forward to 2013, when Minden's business partner, former Pussycat Doll Robin Antin, thought Shepherd might be a good fit assisting a little someone by the name of Kim Kardashian.
Could there seriously be a more fateful meet-cute than this?
According to Shepherd's interview with Refinery 29, she met with mama Kris Jenner's assistant at the time, who introduced Shepherd to Kim almost instantaneously. Upon meeting Kim, Shepherd said,
She had no makeup on and was in her sweats, super pregnant with North. She was just like, 'Look, I need help, Robin loves you and says great things about you; this is what I need. Can you do it?' And I was like, 'OK, sure, I can do that — and if I can't, I'll figure it out!' Meanwhile in my head, I was so nervous. Coincidentally we were both wearing French braids... Kim later told me she was thinking 'This girl has good vibes and a braid, I'm into her!'
See? Definitive proof that sometimes a good hair day does get you the gig.
And, judging by their four-year relationship both professionally and personally, it seemed that the two were by all accounts BFF's:
So when it came out that Steph Shep is no longer working for Kim Kardashian, people were like, "Wait, what?" According to People, a source claimed that Shepherd's new role wasn't panning out, and that Kardashian ultimately let her go:
Kim made a decision to let Stephanie go ... She was a good assistant but when Stephanie wanted to transition into a larger role with Kim's brand and businesses, it just didn't work. Kim gave her the chance, but after a short period of time it became clear that Stephanie just didn't have the knowledge to take on a role like that. Kim made an executive decision to part ways.
While that sounds amicable, there are some reports that the dissolution of their relationship was much, much more personal. According to Shepherd's Instagram Story, some major shade was thrown toward a "bad friend," which many speculated was actually about Kim K. Shepherd wrote,
Self care isn't always Lush bath bombs & $20 face masks. Sometimes, it's going to bed @ 8 PM or letting go of a bad friend. It's forgiving yourself for not meeting your impossible standards & understanding you are worth it. Self care isn't always luxury but a mean for survival.
Sigh. If this post is in fact about Kim Kardashian, then I think it's pretty safe to say that Steph Shep is moving on from their relationship like some kind of bad breakup.
Thanks for the memories, ladies.