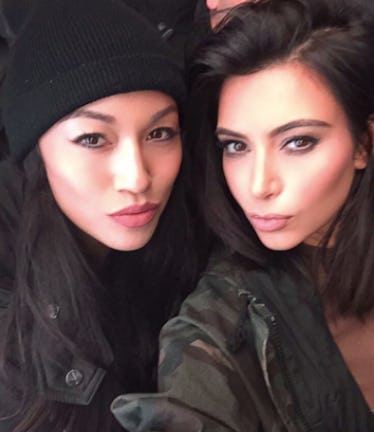 Steph Shep DGAF About Not Working For Kim K, Posts Selfies On Instagram Instead
Kim Kardashian/Instagram
2017 has certainly been an interesting year for the Kardashian sisters. There have been talks of surrogate babies, drastic haircuts, and pregnancy rumors, and of course much, much more. But there's someone else who's making Kardashian-sized drama without even being a Kardashian — and that's Steph Shepherd, Kim Kardashian's now ex-assistant. And apparently, she's just living her best life, and her latest Instagram posts prove that Steph Shep doesn't need Kim Kardashian anymore, because girl is clearly doing her own thang.
In case you missed it, Steph Shepherd began working as Kim's assistant back in 2013, and was promoted to COO of the Kardashian West Brands, which is a pretty big freaking deal if you ask me.
Shepherd came from humble beginnings, revealing to Refinery29 that she came from a rural town, and when she moved to LA, she first became an assistant to Real Housewife Erika Girardi:
...When I came out here, it was a whole different thing. I had never seen a Range Rover. I hadn't really traveled, I didn't know what Givenchy was or how to pronounce it. Mikey and Erika took me under their wing and taught me everything. We traveled the world together. They both opened my eyes to so much, about being a hard-working, meticulous assistant, yes, but also just all the things life can offer.
So later on in her career, when she interviewed with Kris Jenner's assistant and was then introduced to Kim, it seemed to be a match made in heaven. Shepherd said:
She was just like, 'Look, I need help, Robin loves you and says great things about you; this is what I need. Can you do it?' And I was like, 'OK, sure, I can do that — and if I can't, I'll figure it out!' Meanwhile in my head, I was so nervous. Coincidentally we were both wearing French braids... Kim later told me she was thinking, 'This girl has good vibes and a braid, I'm into her!'
You could see from Steph's Instagram posts that things were going pretty well as Kim K's assistant, clearly having a close relationship with all of the Kardashian sisters and basically living the damn dream:
But apparently it has not been all smooth sailing, because Shepherd was reportedly let go in November, and a source told People that her friendship with Kim had become tense:
She's still friendly with the other sisters but she and Kim aren't really speaking.
While we don't know for sure why Kim decided that Shepherd would no longer work for her, what we do know is that Shepherd seems to be unfazed by the situation.
She did post an Instagram Story that *may* have been throwing shade at Kim Kardashian, though we have no definitive proof that it's about Kim — just someone who Shepherd has implicated is a "bad friend." She wrote:
Self care isn't always Lush bath bombs & $20 face masks. Sometimes, it's going to bed @ 8 PM or letting go of a bad friend. It's forgiving yourself for not meeting your impossible standards & understanding you are worth it. Self care isn't always luxury but a mean for survival.
And her most recent Instagram posts show that she can take a damn good selfie without any of the Kardashians present:
And she can look ~flame~ for the holidays all by herself:
And she can totally take fashion to the next level, because, duh, the girl is obviously I-N-D-E-P-E-N-D-E-N-T:
So maybe she and Kim aren't on the best of terms anymore, which is a little bit sad. But might I say that I think Steph Shep is doing pretty damn good regardless, so let's give it up for our girl.
Steph, you do you.