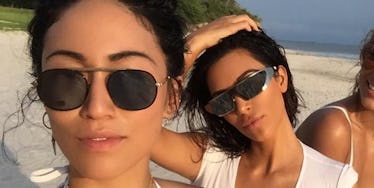 Kim K's Assistant Reveals What It's Really Like To Work For The Kardashians
Instagram
OK, OK, OK.
Kim Kardashian's right-hand woman Stephanie Shepherd broke down what it's like working for the royal family in an interview, and it's almost too much to take in.
Whatever you think it's like, it 100 percent is and also 100 percent is not. 
If you think being Kim K's assistant is jet-setting around the world, wearing expensive clothing and eating nice meals -- you are right.
But if you think it's a nightmare of logistics, keeping track of the world's craziest calendars and carrying piles and piles of heavy luggage while taking the fall for everything that goes wrong -- you are also right.
Shepherd, who is in her late 20s, recently sat down with Refinery29 and laid it all out there. Here are a few tidbits from the crazy life of a Kardashian assistant.
She was first an assistant to Real Housewife, Erika Girardi.
Shepherd explained when she first came to LA, it was a real culture shock. Coming from a small rural town, the fanciest restaurant Steph had at the time was Olive Garden. She said,
...When I came out here, it was a whole different thing. I had never seen a Range Rover. I hadn't really traveled, I didn't know what Givenchy was or how to pronounce it. Mikey and Erika took me under their wing and taught me everything. We traveled the world together. They both opened my eyes to so much, about being a hard-working, meticulous assistant, yes, but also just all the things life can offer.
When she met Kim Kardashian, they both were wearing french braids.
In 2013, after a quick interview with Kris Jenner's assistant, Stephanie was immediately introduced to Kim. At the time, Kim was very pregnant with North.
She was just like, 'Look, I need help, Robin loves you and says great things about you; this is what I need. Can you do it?' And I was like, 'OK, sure, I can do that — and if I can't, I'll figure it out!' Meanwhile in my head, I was so nervous. Coincidentally we were both wearing French braids... Kim later told me she was thinking, 'This girl has good vibes and a braid, I'm into her!'
She started the very next day.
She drives around with Kimoji merchandise in her trunk, just in case.
Shepherd was recently promoted from assistant to COO of Kardashian West Brands, and a huge part of that is helping Kim keep track of her app, Kimoji. Steph even has a hand in helping design the latest emojis, and takes meetings on behalf of Kim.
For one thing, they are working on adding an "asstray." Steph explained, "Kim doesn't smoke, but I try to get the weed paraphernalia in there... you know, for the youth."
She also drives around with a trunk full of wrapped Kimoji merchandise, saying, "With Kim, you never know when you might need to gift some merch!"
Kris Jenner really does run the whole world.
Stephanie can't say enough wonderful things about the matriarch of the family, explaining that Kris is both a badass boss and a wonderful mother.
Kris Jenner is a f*cking G. The biggest lesson she's taught me is to not procrastinate. When you want something done, get it done. If you're a procrastinator, this is not the world for you. If someone tells her no, she has no problem standing her ground and saying, 'We're not accepting that, get someone on the phone and make it happen.' That woman can literally get on the phone and change the world. And somehow, she juggles all of these kids, all of their careers, and still makes sure that every assistant, every staff member, has a Christmas present, delivered to us by Christmas, with a thoughtful card. And it's a nice-ass Christmas present. That's the kind of person I aspire to be one day.
Her biggest advice to other assistants is to write everything down.
Steph doesn't pretend she's superhuman, and admits she's made mistakes. However, her biggest piece of advice to share with any assistant is to take notes. Lots and lots of notes.
Every time I see an intern not taking notes when they're getting instructions, I'm like, you're gonna fuck this up! Just write it down — it's not that hard!
She was there for the infamous Paris robbery.
Steph was out at a nightclub with Kim's sister Kourtney when she got the call. Immediately, she went into crisis management mode.
It was terrifying. At the time, I had to hold it together and make sure everything was getting handled, and that we could get Kim home as quickly and safely as possible... ...Wherever we are, my instinct is just to protect her. I would truly take a bullet for her.
The Kardashian sisters really DO work out as much as you think they do.
Steph, who used to be a professional dancer, works out because of the sisters.
She said, "Being around Kim and Kourtney and Khloé, I'm always working out. I never was a big exercise person before, but they work out religiously."
She and Kim talk more than any other two people on the planet.
And she has an independent relationship with all of her sisters.
Being a Kardashian employee means constant communication and accessibility. She said, "I don't think it's possible for any person to talk to anyone more than I talk to Kim."
Apparently, Kanye West is actually very funny.
Which, I guess, makes sense? Stephanie explains most people think he is very serious, dramatic, and mooddy -- but apparently Yeezy can lay on some great one-liners.
I think people would be surprised to know how funny Kanye is. Do people know that he's funny? I know everyone thinks he's so deep and serious, but he's also so funny, like he has me rolling laughing, and sometimes I'm like, 'Is this inappropriate that I'm laughing so hard?' But he's just so f*cking hilarious, he has these one-liners, and he's just so unfiltered.
She can also work a camera, and often films for Keeping Up With The Kardashians during more private moments.
For example, she wasn't even part of the wedding ceremony for Kim and Kanye's wedding, because she was busy filming from the roof.
I didn't even get to watch the ceremony because I was also filming — I often producer-cam the more personal moments for the show, when they don't want full-on cameras around... ...I was in Adidas sweatpants and a T-shirt and hadn't showered that day! And then I walked her down to the elevator so she could walk down that really long stone aisle, and then I ran back up and started filming her from the roof! That was the money shot for the show. Meanwhile, there was some security guy yelling at me, 'You can't film here!'
For now, this is all she wants to do.
As an assistant, people often ask her "What's next?," and to Shepherd, that doesn't quite make sense. "I'm just like, what do you mean?" She adds, "Honestly, I'm just going to see where it takes me. I'm learning. I'm helping Kim Kardashian run her empire. I'm also building something for myself. I think that's a pretty f*cking great gig."
You said it, Steph. You said it.
Citations: A Day In The Life Of Kim Kardashian's Right-Hand Woman, Stephanie Shepherd (Refinery29)