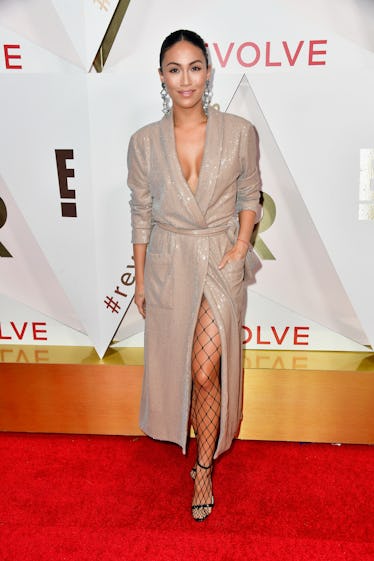 Steph Shep's Snapchat Proves She's Living Her Best Life Without Kim Kardashian
Frazer Harrison/Getty Images Entertainment/Getty Images
If you're a fan of Keeping Up With The Kardashians, then it's safe to say you know who Steph Shep is. At the very least, if you don't know her by name, you certainly know her face. Now the ex-assistant of Kim Kardashian, Stephanie Shepherd was a prominent person in the lives of the Kardashians both on-screen and off. Sadly though, it seems like we'll be seeing much less of her now that she and Kim K have parted ways. But fret not, there's still a way to see more of Stephanie, and that's through social media. So, does Steph Shep have a Snapchat? What about an Instagram? How can we still keep tabs on the impossibly interesting life of Kim's old friend and assistant?
Fortunately, you can catch up with Steph's life after the Kardashians in more ways than one.
Steph Shep has an active Instagram account.
With nearly a million followers, it's pretty obvious that people are loving what Steph Shep's posting. And, while gone are the days where Shep's Instagram account is filled to the brim with up-close and personal photos of each Kardashian sister, Shep is still living her best life judging from the most recent pictures on her Insta-feed:
"Hello, yes, I have reservations for looking fly as hell, party of one?"
Steph Shep kills it on Snapchat, too.
If Instagram is a bit too 2017 for your 3017 taste, then perhaps you'd like to find Steph on Snapchat, where she's doing the damn thing (and doing it well).
In April of 2016, Steph took to Twitter to post a very important announcement: that she has joined the ranks of greatness by creating a Snapchat account:
Kind of love that she used Twitter to hype her fans up about the creation of a Snapchat account. It's like some weird social media-style inception.
If you knew about Steph's Snapchat before her days of assisting the Kardashians ended, then you were graced with some serious behind-the-scene gems of the royal family, since Steph was such an integral part of each of the Kardashian sisters' lives.
Here she is on a ~romantic~ date with her former boss, Kim K:
And NBD, here's a little glimpse of our girl Kendall looking like absolute perfection:
And here's Kourtney drinking water in a very Vogue way:
Oh, you didn't know that Kim is a fan of beignets? Well, you do now, thanks to Steph:
So I guess you could say that Steph Shep was there to document the lives of the Kardashians in a way we'd never be able to have seen otherwise, and for that we are truly thankful.
Sadly, though, it seems that her and Kim's relationship has completely dissolved, and Steph was let go in November as both Kim's assistant and as the COO of the Kardashian West Brands. According to People, a source said that their professional relationship wasn't panning out as expected:
Kim made a decision to let Stephanie go ... She was a good assistant but when Stephanie wanted to transition into a larger role with Kim's brand and businesses, it just didn't work. Kim gave her the chance, but after a short period of time it became clear that Stephanie just didn't have the knowledge to take on a role like that. Kim made an executive decision to part ways.
And, while there's speculation that Steph's Instagram Story called Kim out as being a "bad friend" – showing that it wasn't just the dissolution of a business relationship between the two women – we might never know the full truth as to why these two are no longer BFFs.
But hey, at least we can still follow Steph's life on social media, even if we can't spot her lurking in any new episodes of Keeping Up With The Kardashians. It's truly the little things in life, amirite?