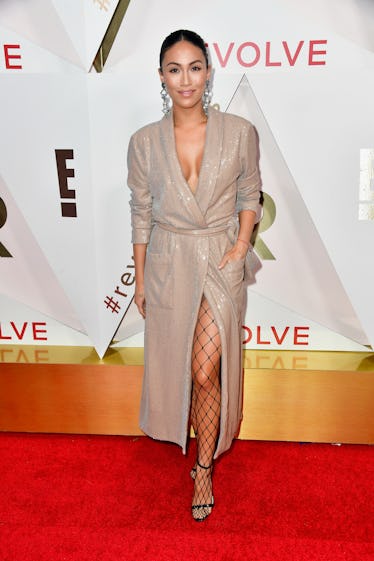 Here's Everything We Know About Steph Shep's Life After Working For Kim K
Frazer Harrison/Getty Images Entertainment/Getty Images
There have been some pretty epic splits in Hollywood — Chris Pratt and Anna Faris, Angelina Jolie and Brad Pitt, Lady Gaga and Taylor Kinney — the list goes on forever. One split that had people exceptionally shook was the parting of Kim Kardashian and her long-time assistant Stephanie Shepherd (aka Steph Shep). The two went from attached at the hip to reportedly not speaking within a matter of months. Their fallout ended a four-year professional relationship and came as a shock to many fans. What is Stephanie Shepherd's job now? The former assistant seems to be doing just fine.
Kardashian nor Shepherd spoke candidly about what happened that caused their business relationship to fizzle, but reports from various sources have pieced the story together.
One source told Us Weekly that it was Shepherd's Refinery29 profile piece from May 2017 that left a bad taste in Kardashian's mouth. The source said,
Stephanie started thinking she was a celebrity herself, and Kim didn't like that. Everything started going downhill after the Refinery29 article came out ... Things aren't how like they used to be. Stephanie does still hang out with the family and Kim and her are cordial when they see each other, but it's different.
However, an opposing source claims Kardashian "wouldn't say that Steph thinks of herself as a celebrity." Basically, Kardashian wants good things for Shepherd and it was in their best interest to part ways. The second source dished,
Kim and Steph are still friendly and still speaking. Kim wouldn't say that Steph thinks of herself as a celebrity ... Kim respects Steph and wants her to do well.
At the end of the day, the professional relationship just didn't make sense anymore, according to People. A source told the publication that Shepherd tried growing into a new role, but it didn't work out. The source explained,
Kim made a decision to let Stephanie go ... She was a good assistant but when Stephanie wanted to transition into a larger role with Kim's brand and businesses, it just didn't work. Kim gave her the chance, but after a short period of time it became clear that Stephanie just didn't have the knowledge to take on a role like that. Kim made an executive decision to part ways.
Shepherd has reportedly stayed close with the Kardashian sisters, but things remain awkward between her and Kim. One of the earliest signs of trouble can be seen on the Oct. 29 episode of Keeping Up With The Kardashians.
After a night out with Shepherd, Kourtney warned Kim that Shepherd said she was feeling unfulfilled career-wise. Kourtney said,
Just a heads up, we were talking and she was saying that she didn't know what she wanted to do in life ... She feels, like, maybe she's in a place in life where she's unfulfilled, job-wise.
She added,
I feel like she's just looking to, like, evolve.
Kim was not happy to hear this, and found it extremely unprofessional for Shepherd to have gone to Kourtney with her concerns before her.
We may never know what exactly happened between Kardashian and Shepherd, but the parting makes Shepherd a free agent. Although there are no reports of Shepherd gaining employment elsewhere, it looks like she's been enjoying herself.
According to her Instagram, she's been hanging out at Art Basel in Miami — an exhibit that has hosted a plethora of different celebs, including Scott Disick and Sofia Richie. She has also been entertaining her 961,000 followers on Instagram by being a major fashionista and posting a few cheeky bikini pics.
If I had to guess, I would assume Shepherd is taking a little time off to hang out with friends, family, and her reported boyfriend, Apple Music's head of content, Larry Jackson.
Although splitting with Kardashian was one major chapter closed in Shepherd's life, I'm sure she is moving on to bigger things. Best of luck, Shep.
Check out the entire Gen Why series and other videos on Facebook and the Bustle app across Apple TV, Roku, and Amazon Fire TV.