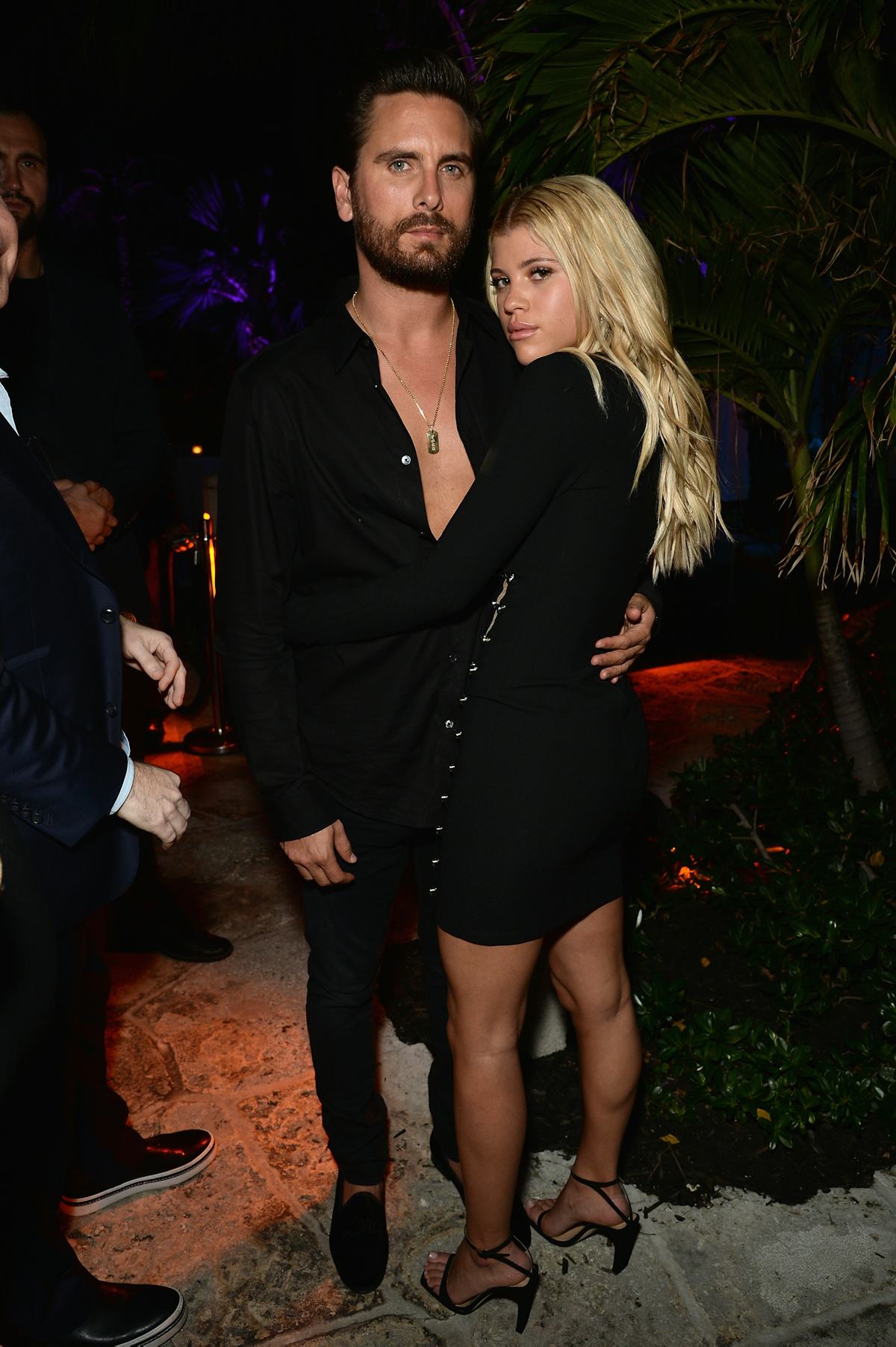 Scott Disick & Sofia Richie Were "Very Affectionate" At A Party, So That's Still A Thing
Andrew Toth/Getty Images Entertainment/Getty Images
You know that feeling when you're really tired and have to literally drag yourself out of bed? That's kind of how I feel when I see something about Scott Disick and Sofia Richie. It seems like it shouldn't be happening, but it really is — and I can't do anything to stop it. I hope you relate. If you have any questions surrounding, "Are Scott Disick and Sofia Richie still dating?" I have answers. Disick and Richie's most recent public appearance suggests that the couple is still going strong.
The couple resurfaced to attend DuJour's Jason Binn And WellNEST Celebrate Miami Beach's Art Basel Kick-Off event on Dec. 6. Disick and Richie reportedly only stayed for an hour at the Miami-based event, but were able to pose for some pictures. When the lighting is good, you have to — AMIRIGHT?
Richie looked great (as always) in a long-sleeve, black mini-dress with lace-up detailing on the side. She paired it with simple, strappy black heels and wore her long, blonde hair down.
Disick also looked super sleek. He wore head-to-toe black with matching black loafers and no socks (or low-ankle socks?). In true Miami fashion, he had his shirt half un-buttoned and exposed some of his chest and gold necklace. His shirt being unbuttoned isn't important, but I felt like it was worth mentioning. Also, is it possible he waxes his chest? I can guarantee that I will literally never know.
According to E! News, an insider said Disick and Richie kept it "low-key" and hung out with party guests. The source did add that there was a body guard keeping a close eye on the two.
Apparently, Disick and Richie are still very much an item and even showed a little PDA around the party. The source said,
They were affectionate with their arms around each other. They shared a few kisses.
Another source assured that Disick has been on his "best behavior" during their Miami trip. Not sure what kind of trouble he could be getting into, but it seems that Richie keeps him in check. The second source also mentioned that Disick, "only had eyes for Sofia last night." Which is actually kind of sweet.
In all honesty, Scott and Sofia going to a party in Miami ranks relatively low on the weirdness scale. Do you know what ranks extremely high? SCOTT HANGING OUT WITH SOFIA'S DAD.
Music legend Lionel Richie seems like an awesome guy to chill in Miami with, but this seems weird to me. Disick hanging out with Lionel in a "son-in-law bonding" way is strange. The two spending time together as strictly pals, like he's not dating Lionel's 19-year-old daughter, IS SO CREEPY.
Reportedly, Disick and Lionel were seen spending time at the beach together on Dec. 6, before Disick attended the event with Sofia. After some fun in the sun, an eyewitness told E! News that Disick and Lionel headed out on LIV nightclub owner David Grutman's boat.
As weird as this might seem from the outside looking in — I do think it's good that Disick is getting along with Sofia and her family. After all, that's part of what tied him and Kourtney Kardashian together so tightly — Scott became one of the fam. As for Lionel, he's fully aware of his daughter's dating habits.
Sofia and Lionel attended the SAG-AFTRA Foundation's Patron of the Artists Awards on Nov. 10 and walked the red carpet together. Sofia was asked how her dad is when it comes to her dating life. She said,
He's good. He's been very nice. He's been very cool. He's very supportive, whatever that means.
As she said this, Lionel used his hand to make a gun gesture and pointed it at his head.
Overall, what have we learned? Scott and Sofia are good, Sofia and Lionel are good, and (apparently) Scott and Lionel are also good. I honestly have no idea where this relationship is going to go, but I'm buckled in for the wild ride.
Check out the entire Gen Why series and other videos on Facebook and the Bustle app across Apple TV, Roku, and Amazon Fire TV.