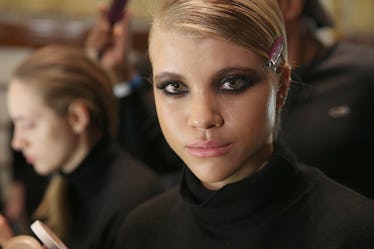 Sofia Richie's Phone Case Is A Photo Of Scott Disick & Now I Feel Weird
Monica Schipper/Getty Images Entertainment/Getty Images
It's a weird world out there, you guys. Donald Trump is president, Selena Gomez is hanging out with Justin Bieber, and Sofia Richie's phone case is a photo of Scott Disick. I can't explain why, but it makes me feel so, so weird. Maybe it's because Disick is 15 years older than Richie. Maybe it's because we watch the father of three profess his love for Kourtney Kardashian on TV, like, all of the time. Maybe it's because, IDK, this relationship seems a little bit out of nowhere and like it can't possibly have any longevity, yet here we are.
The phone case feels a little excessive on Richie's part, almost like she is trying to prove to us how deeply in love they really are. This is a sharp turn from where they started off a mere few months ago. If you guys remember, Disick and Richie were first linked during Disick's downward spiral at the Cannes Festival this past summer. At the time, Richie tweeted out,
Just so everyone can get their panties out of their asses, Scott and I are just homies #Relax
In fact, she meant it so much, she followed up with a second tweet:
The last time I'm gonna say it. Scott and I are just friends. I'm single and focused on friends, family and work. #againrelax
Mmm hmm, tell that to your phone case.
Richie was spotted carrying her phone in London, which explicitly shows a classic photo of Disick talking on the phone and wearing a suit. It also has the words "Lord Disick b*tch" stamped right on it.
Classy.
While it's 100 percent not up to me or the internet to decide what people do in their personal lives, we can't help but feel invested in what the heck is going on.
Richie and Disick first made it Instagram official in September 2017 when they shared that alarming video of a "congratulatory cake." Fans were freaked out, because they had no idea what the two were celebrating. TBH, we still don't.
Since then, it's been a steady flow of PDA-filled vacations and sneak cameos on their social media feeds.
The weird thing about the Kardashian family is that we hear about their lives in real time, and then see how events actually played out later when it aires on their show.
For example, in a recent Keeping Up With The Kardashians episode, Disick opened up to Kim Kardashian about his frenzied Cannes trip. This was filmed back in the summer, and at the time Disick felt very differently about his now girlfriend.
He told Kim he was using young women as a distraction from his ex Kourtney, who was busy jet skiing with her new boyfriend (who is also much younger than her, if we're keeping tabs or whatever).
He said,
Look at it from my perspective. She [Kourtney] was on vacation with one man the whole trip. That looks like a happier scenario than me jumping around trying to find happiness and these girls are not fulfilling that. I'm just not happy with anybody.
He further admitted, "Ya know, when I was at Cannes, I mean, it wasn't good to say the least."
My, my, how the phone cases have turned or something...
Disick seems to be leaning into his relationship with Richie just as much as she is, and we're all just waiting for whatever bomb drops next in this relationship.
An engagement ring, perhaps? A tattoo of the two of them on their backs? Anything is possible when it comes to Scott Disick.
Check out the entire Gen Why series and other videos on Facebook and the Bustle app across Apple TV, Roku, and Amazon Fire TV.