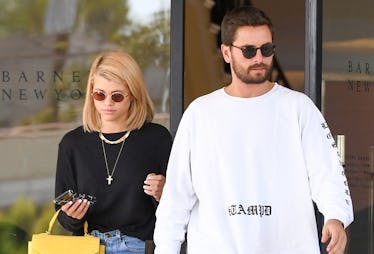 Scott Disick & Sofia Richie Are On Vacation In Venice Together, So I Guess This Is Still A Thing
As much as I've tried to pretend like this isn't a thing, it looks like Scott Disick and Sofia Richie dating is really a thing. At first, it seemed like a fake thing that would go away quickly, kind of like Disick and Bella Thorne being a thing for a bit and then suddenly ending. But given the amount of PDA Disick and Richie have been displaying over the last couple of weeks, this seems to be a full-on relationship. The pair are currently on a vacation in Venice, and the photos of Scott Disick and Sofia Richie in Italy are proving this relationship, whatever it is, is still going strong.
Though they have yet to publicly confirm the relationship, Disick and Richie were most recently seen showing some serious PDA on a gondola ride in Venice. From the looks of the pictures, it seems like they're really into each other. They've been traipsing around Italy for the last couple of days, and while there, they've continued their streak of not being shy about being with each other. This is one of a few vacations the pair has been on recently. Two weeks ago, they traveled to Mexico and were no-holds-barred about each other on social media. A source told E! News,
They are inseparable right now and not leaving each other's side ... Scott is totally romancing her and she is under his spell ... [He] is spoiling her with shopping trips and sweet gestures.
By the looks of these pictures, that checks out.
Rumors that Richie and Disick were a lot more serious than they're letting on started circulating around the end of September due to a video posted of the pair at what looked to be a celebratory dinner. The video shows the pair at a table of friends. A server comes out and gives them a dessert plate that says "Congratulations Scott and Sophia" (her name was spelled incorrectly) written in chocolate.
This led people to believe they had something to celebrate — an engagement, a baby? — but according to TMZ, this was probably a stunt. You know how sometimes you pretend it's your birthday just for fun/in order to get free cake at restaurants? That's basically what TMZ thinks this video was about. There was no follow-up comment about it from the couple announcing anything big, so it's likely this was just for fun.
But this trip to Venice definitely doesn't look like a stunt. These pictures are seriously romantic.
Are you guys dating for real, or not?! TELL ME.
You are messing with us all and you're doing it in the land of spaghetti. I am truly hurt by this.
Hurt to my core.
The same source commented more on the pair's trip to Mexico. They said,
They spent Sunday laying out by the pool listening to music and being waited on by the butler staff. Scott and Sofia got massages and were served drinks and chips by the pool. They were outside most of the day, relaxing on pool rafts and hanging out. At night, they sat by the fire pit and had the chef prepare dinner for them.
The source added,
Scott and Sofia seem very happy together and are very affectionate. They always had their arms wrapped around each other and were kissing and hugging.
While Disick and Richie are clearly into each other, Richie's father, singer Lionel Richie, is apparently not excited about their romance. Richie told Us Weekly at the American Idol auditions on Oct. 4, "Have I been in shock?! I'm the dad, come on." When asked how he felt about 34-year-old Disick and 19-year-old Richie dating, he said, "I'm scared to death, are you kidding me?"