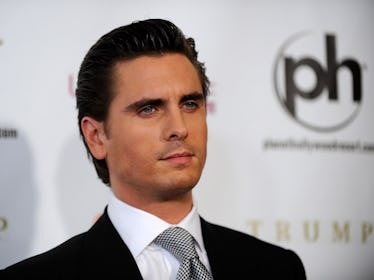 Scott Disick & Sofia Richie Had A PDA-Filled Vacation & The Pics Will Make You Cringe
David Becker/Getty Images Entertainment/Getty Images
A couple of weeks ago, Scott Disick and Sofia Richie started off as the biggest WTF-inducing couple and... that's still kind of how we all feel about it. The duo has reportedly been continuing to spend a lot of time together, and now they've taken their relationship international. Photos of Scott Disick and Sofia Richie kissing on their recent trip to Mexico are as cringeworthy as they are confusing.
Sofia Richie is a 19-year-old model who happens to be Lionel Richie's daughter. I wonder what Lionel thinks of all this? Sofia's name first started popping up in 2016 when she was rumored to be dating Justin Bieber for a few months. Unfortunately for Richie, Bieber mega-fans can get real ugly and weirdly territorial of the Biebs. Richie received so much hate and mean messages on social media, Bieber threatened to make his personal Instagram private. He posted a black and white photo of himself with Richie with the caption,
I'm gonna make my Instagram private if you guys don't stop the hate this is getting out of hand, if you guys are really fans you wouldn't be so mean to people that I like
Richie and Bieber did end up fizzling out pretty fast. This was right on the heels of his random reported relationship with Kourtney Kardashian. Remember when it was circulating that Kourtney Kardashian was hooking up with Justin Bieber? Well, now life has come full circle and everything is creepy because Scott Disick seems to be dating Sofia Richie for real.
While dining out in Miami on Saturday, Sept. 23, the couple received a very misleading dessert. In front of a table full of friends, a sparkling (TBH, total fire hazard) dessert was presented to the giggling couple that said "Congratulations, Scott and Sophia." HER NAME WAS MISSPELLED BUT WHATEVS. The video showed the duo hugging and kissing while people recorded on their phones and cheered along.
Fans assumed the congrats meant Disick and Richie were celebrating a milestone in their relationship, which (of course) led to suspicions of engagement or marriage.
Actually, TMZ suspects the stunt was planned, as there was no attempt to hide or conceal the message — plus, there was no follow-up explanation from the couple. Guys, I think they're messing with us.
At the time, a source told E! News,
They are inseparable right now and not leaving each other's side ... Scott is totally romancing her and she is under his spell ... [He] is spoiling her with shopping trips and sweet gestures.
Lord knows. While that cryptic "congratulations" dessert was never explained, 34-year-old Disick didn't hesitate showing off his (maybe?) girlfriend to his Instagram followers.
A source told E! News that Disick and Richie took a private jet to Puerto Vallarta, Mexico, with two of Disick's friends, David Einhorn and Cooper Mount. They reportedly stayed at Girls Gone Wild founder Joe Francis' house. V romantic. The insider said,
They spent Sunday laying out by the pool listening to music and being waited on by the butler staff. Scott and Sofia got massages and were served drinks and chips by the pool. They were outside most of the day, relaxing on pool rafts and hanging out. At night, they sat by the fire pit and had the chef prepare dinner for them.
Well, that sounds like a lovely time. Maybe there's something to this whole "Scott Disick's girlfriend" thing? The source added,
Scott and Sofia seem very happy together and are very affectionate. They always had their arms wrapped around each other and were kissing and hugging.
The couple was not shy about their getaway, which raises a lot of questions. Scott shared a picture on his Instagram story of Sofia sitting on his lap with the caption "Surfs up bruh."
Actually, the two share photos of each other very publicly on social media a lot... so make what you want out of that.
Overall, I don't really care who people choose to date — do what makes you happy. As for Sofia Richie and Scott Disick, if their relationship is for real, then I wish them the best of luck. If not, WTF are you doing. Like, seriously?
Check out the entire Gen Why series and other videos on Facebook and the Bustle app across Apple TV, Roku, and Amazon Fire TV.