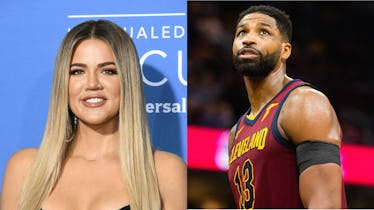 Khloé Kardashian Showed Up At Tristan Thompson's Cavs Game & It's A Lot
Dia Dipasupil/Getty Images Entertainment/Getty Images & Jason Miller/Getty Images Sport/Getty Images
Well everyone, it's been a wild ride but it looks this drama might be coming to a close. Following the rumors that Tristan Thompson allegedly cheated on Khloé Kardashian, everyone has been asking what their relationship status is. So, are Khloé Kardashian and Tristan Thompson back together? It looks pretty likely, considering she was spotted cheering him on at a Cavs game on May 5, according to TMZ.
On May 5, the Cleveland Cavaliers faced off against the Toronto Raptors, but the basketball game wasn't what had my attention. Khloé Kardashian was spotted in the stands cheering on Tristan Thompson despite the looming cheating allegations that have plagued the couple for weeks. Nothing has exactly been confirmed so far, but Us Weekly reported on May 4 that the pair are "fully back together" after photos surfaced of the two hanging out together. Elite Daily has reached out to representatives of both Kardashian and Thompson for comment, but did not immediately receive a reply. According to the publication, Khloé is "still in love" with Thompson even though apparently no one in her immediate circle is his biggest fan at the moment. Neither am I, to be honest.
This is truly taking stand by your man to a whole new level.
If this Khloé/Tristan saga is truly coming to a close, let's take a look back at where we started. On April 10, The Daily Mail and TMZ released video footage that appeared to show Thompson kissing multiple women at a New York City club. Elite Daily reached out to Kardashian and Thompson's teams at the time for comment on the alleged affair, but did not hear back by the time of publication.
Even though it appears that things are looking up for the couple, Khloé is reportedly still struggling to cope with the situation. On May 3, a source spoke to E! News about Khloé's emotions during the alleged cheating scandal, and it's truly heartbreaking.
"Khloé is taking it one day at a time with Tristan," a source told E! News. "She is glad he is helping her out with True, but she has also been spending a lot of alone time reflecting."
Please Khloé, reflect as much as you need.
Once the news broke, it seemed that everyone had something to say about it. On April 30, Kim Kardashian West appeared on The Ellen DeGeneres Show where she chatted with the host about Khloé's history of romantic bad luck.
She said,
I feel like Khloé always dives into relationships and puts her whole heart into everything. I mean, she moved [to Cleveland], and I've seen her be in a really tough situation before in her last relationship [with Lamar Odom]. And I think the family just gets so emotionally invested in whoever each other is with. We treat them like everything. We give them our whole soul. We really were rooting for Khloé and we still are. You know she's so strong and she's doing the best she can. It's a really sad situation all over.
Clearly Khloé is strong if she's willing to deal with all the recent internet haters. Over the weeks, both she and Thompson have had to experience some serious trolling from social media. Fans have left some ruthless comments on the basketball player's Instagram feed, and Khloé even went so far as to disable Instagram comments from her and Thompson's pictures entirely.
The past few weeks have been a whirlwind of emotions for us all, so I can't imagine what Khloé and Tristan must be feeling. Regardless of their relationship status at the moment, let's hope that the couple is doing what's right for themselves.
Love you longtime Khloé.