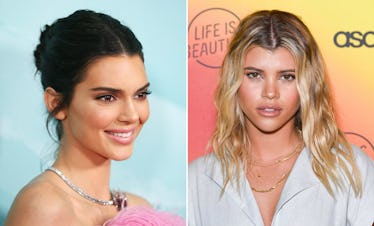 Kendall Jenner & Sofia Richie's Friendship Status May Surprise You
Brendon Thorne/Getty Images Entertainment/Getty Images & Presley Ann/Getty Images Entertainment/Getty Images
You guys, I don't know what to say about the peace and sheer maturity the Kardashian/Jenners have displayed since Scott Disick began dating Sofia Richie. The public (which admittedly has a history of being not so mature) immediately raised an issue with their 16-year age difference and the fact that Richie used to be close friends with Disick's ex-girlfriend Kourtney Kardashian's youngest siblings when they were tweens. It has some people wondering: are Kendall Jenner and Sofia Richie friends today? Based on social media and my own little sleuthing, I can confidently say they are, at least, friendly.
Naturally, all of Kourt's sisters were probably looking to her lead on how the family should react to Disick's relationship. Today, Richie and Disick have been together for nearly two years and seem to be going strong. Since the two went public, Kourt has ended up getting so comfortable with the couple that she has even gone on vacations with them and her and Disick's children. Reports have also claimed she "trusts" Richie with her kids, which is basically the green light for the rest of the family to accept her with open arms.
Followers also know Richie recently vacationed with Kendall's sis Kylie Jenner on her Kylie Skin summer collection vacation and even got her own collaboration with Frankie's bikini slapped all over Instagram.
OK, so the question still remains: What about Kendall?
In February 2018, Kendall famously burned Disick and Richie when he posted a picture of the two of them driving in a car with his daughter Penelope. Kenny jumped into the comments section to toss out this shade: "Awww Scott and his kids." She has since deleted the comment, but the sting still burns. After that, it was fair to assume Kendall had issues with Disick and Richie's relationship, if not Richie herself. Fans assumed the shade stemmed from the fact she and Richie were friends when they were way, way young, and that she was uncomfortable with Disick and Richie's new dynamic as adults.
To be fair, this throwback photo of Sofia and Kendall is sort of jarring.
However, whatever grudge Kendall seemed to be harboring in the past (if there ever even was one) appears to have dissipated.
In late June, she and Kylie went out partying with Richie to celebrate a mutual friend's birthday and popped up in all sorts of Instagram stories and photos. The girls seemed to be having a blast in '70s disco-themed attire while dancing on a party bus and performing karaoke. That night, they all got decked out. Kendall opted for animal print, Richie went with a major beehive 'do, and Kylie rocked some rainbow wedges.
Together, the three women set fans' feeds on fire.
The one thing that has always been very clear with the Kardashian/Jenner clan is that once you're in, you're really, really in. And, once you're out, you're really, really out.
The fact that Disick and Richie are still happily together today and that she is hanging out with the family with such regularity makes me believe it's all good between these ladies.