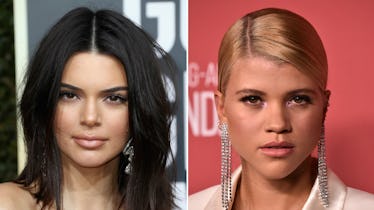 Fans Think Kendall Jenner Is Throwing Shade At Sofia Richie AGAIN & It's Nuts
razer Harrison & Frederick M. Brown/Getty Images Entertainment/Getty Image
Do not mess with Kendall Jenner. She will come for you and your dead pet. Fans think Kendall Jenner dissed Sofia Richie for a second time based on a super specific and recent Instagram post about her new horse. (I know, stick with me, folks.) If you thought Jenner was the quiet one out of her famous family, think again.
Scott Disick isn't technically related to Jenner, but he is an awful lot like her brother-in-law. Having dated Jenner's older sister Kourtney for over a decade, Disick was/is basically family. Over the years, obvious turmoil and conflict ultimately broke up his relationship with Kourtney, but the drama never left. Now, he's dating 19-year-old Sofia Richie, and Jenner and the public have some major opinions about it all.
Mainly, fans are like, "Dude, isn't she a little young for you?"
Richie and Disick are a whopping 15 years apart, which is a whole lot of years when you realize she's actually closer in age to Disick's 8-year-old son, Mason. In fact, Kourtney Kardashian is literally twice Richie's age, and almost twenty years her senior.
There's a LOT going on there, don't you think?
Disick and Richie first got together back in May of 2017, when she was still 18-years-old. It was... unsettling. It was weird. It just didn't quite feel right. Flash forward eight months, and the couple is still going strong. However, if you think everyone just rolled over and accepted this new relationship, you'd be way, way wrong. Particularly, Kenny has some thoughts she would like to share with the class.
Recently, Disick posted a few paparazzi pictures of himself, Richie, and his daughter, Penelope, getting into a car. Jenner famously commented on the photo, "Awww Scott and his kids." She also added a sarcastic laughing emoji.
Apparently, she's since taken the comment down.
It's weird because she obviously doesn't care that people have caught on to the not-so-sly shade she loves to throw at Richie. In fact, some reports say these two even used to be friends way back in the day.
My, my, how the tables have turned. Jenner's latest diss comes by way of her new pet horse, and it has me feeling all kinds of uncomfortable. (Like, who uses pets as ammo? Know what I mean?)
According to Richie's Instagram, her longtime pet horse named Dragon recently died. Richie shared a picture of herself as a wee-young girl with the gorgeous, white, animal in early January.
She captioned it, "Rip to my beautiful dragon. Spent some of my happiest moments with this guy." She added a broken heart emoji.
Now, it looks like Kendall just got her own new horse, and guess what she named it?
Yup. Dragon.
Or at least it looks like that. I don't know how pet horses work, but I couldn't believe Jenner would go so far as to name her horse the same thing as Richie's deceased horse. Is that how Hollywood works?
Jenner shared a picture of a brown horse just one month after Richie shared her photo, and captioned it, "My new baby dragon." Instead of a broken heart, Jenner added the heart-eyed emoji.
BRUTAL, RIGHT?!
I literally spent 15 minutes of my life that I'll never get back Googling "Do people just sometimes calls horses 'dragons'?" because this seems so wild.
The internet was not helpful this time around, folks (though there is a book out there titled A Horse Named Dragon that has great reviews).
I mean, geez, Kendall. Tell us how you really feel.
Check out the entire Gen Why series and other videos on Facebook and the Bustle app across Apple TV, Roku, and Amazon Fire TV.