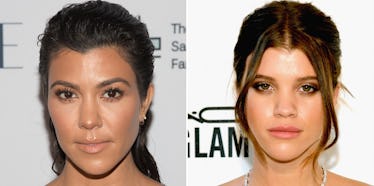 This New Report On Kourtney K & Sofia Richie's Relationship Is Actually Really Surprising
Gabriel Olsen/Rodin Eckenroth/Getty Images
It's been a while since fans got an update about the dynamic between Kourtney Kardashian, Scott Disick, and Sofia Richie. Things have seemingly been going well between the three, and a new report says that Kardashian has gotten a lot more comfortable with her ex's girlfriend being around her kids. According to People, Kourtney Kardashian "trusts" Sofia Richie with her kids, so clearly some positive communication has been going on between them all.
A source told People that Richie has been able to build a relationship with Kardashian and Disick's kids over the last eight months she and Disick have been dating (they confirmed their relationship in September of 2017), and they've gotten to a point where Kardashian now trusts Richie with Mason, Penelope, and Reign. "It helps that Kourtney now trusts Sofia," the source said, adding, "The kids are allowed to spend time with her. Sofia likes having them and helps Scott. So far, the kids are giving Kourtney good reports about Sofia." So it seems like as long as the kids like Richie, Kardashian likes Richie. Fair enough.
The source confirmed that Richie has been an overall positive influence on Disick, who reportedly does not party much at all anymore and has chosen to spend more time with his family. "Sofia has shown over and over again that she is willing to stay with Scott even when things are not great — but Scott is doing well lately," the source said, adding that he "isn't really partying" and "spends a lot of time with his kids."
Things seem to be pretty smooth sailing between Scott Disick and Sofia Richie. She recently posted a photo of her and Disick on vacation in honor of his birthday on May 26.
The photo showed her and Disick posing in some body of water that looks tropical and majestic AF. She captioned the post, "Happy Birthday babe! Thank you for being you. Love you."
She also posted a photo of her, Disick, and a friend grabbing food on May 21.
Things just seem really chill between these two. Based on their social media posts, it looks like they have moved past the honeymoon phase of their relationship and are in the phase where they're very comfortable with each other and have gotten accustomed to having the other around. They seem straight-up peaceful, which is nice to see. And that undoubtedly reflects in the time they spend with Disick and Kardashian's three kids.
"Sofia is helping Scott be a better, healthier person," the source revealed. "Kourtney feels confident that Scott and Sofia takes [sic] good care of the kids. Scott is a great dad when he has his life together." Kardashian reportedly used to feel Richie was "too young" for Disick, which, I mean, fair. They are 16 years apart (Disick is 35 and Richie is 19). But she apparently has given them her blessing because their relationship seems to be a positive thing for Disick.
Disick recently posted a photo with all three of his kids.
The caption said, "St Barts I love." It looks like this is where Richie and Disick were in the photo she posted for his birthday. That means Disick and Richie might've taken Mason, Penelope, and Reign on a vacation, so that's a big step in their relationship and shows just how much Kardashian trusts Richie. If she didn't, there would probably be no chance she would let Richie take her children on a trip.
To sum all of this up, Scott Disick and Sofia Richie seem to be going pretty strong, and Kourtney Kardashian seems to have warmed up to the entire thing. What a time.