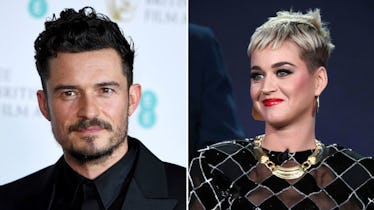 There's A Huge Clue Katy Perry & Orlando Bloom Are Back Together & I'm Screaming
Jeff Spicer & Frederick M. Brown/Getty Images Entertainment/Getty Images
Excuse me. Hello. Yes, I have a question: What in the the world is going on with Katy Perry and Orlando Bloom? Are they in love? Are they not in love? Are they meant to be, but are denying it to themselves? Are Katy Perry and Orlando Bloom dating again, or am I just seeing things? Based on a recent rendezvous (to Japan, no less), I can't imagine these two stars aren't back on again, and I am here for it.
You guys know the saga — actor falls in love with pop star. Pop star and actor go naked paddleboarding. Actor and pop star break up. Actor and pop star go to Japan together. It's a tale as old as time. Perry and Bloom were an unexpected pair when they officially dated back in 2016 to early 2017, but a fan favorite nonetheless. In March of 2017, a source told E! News, "Katy pulled the plug. It was a few events that happened over the past few months. They both still love each other very much, though, and getting back together could happen once they have some space."
Is that time now?!
On Tuesday, March 27, Bloom was photographed hitting the streets of Tokyo where Perry was performing. In fact, fans snapped footage and pictures of Bloom at her concert in the Saitama Super Arena. The two also participated in an epic Super Mario Cart go-kart tour dressed up as characters Mario and Luigi. To be honest? Just watching them spin around on the streets is one of the best times I've ever had. I can't imagine what it felt like IRL.
This trip — which happens to be a major clue they're back together — is also hardly the first time these two have been linked since their split.
About three weeks before Japan, Perry was caught wearing a onesie with Bloom's face on it. Cosmopolitan reports the outfit was likely a gift from Bloom's mother, who gave him the exact same onesie for his 40th birthday.
A source told E! News Bloom and Perry "talk all the time." The insider explained, "They haven't called each other boyfriend or girlfriend yet but it's [kind of] known to their close circle."
Apparently, it's one of those distance-makes-the-heart-grow-fonder scenarios. The insider added,
Katy and Orlando have grown up since they cooled down. They never stopped communicating. They have met up a few times which was under the radar to the media. They try to keep what goes on between them private.
Private. Right. Just like that time Perry told James Corden that Bloom was the second best lover she's ever had.
Another source recently reiterated to People magazine that Bloom and Perry don't want to label their relationship, but obviously, they're enjoying their time together. The insider said their breakup wasn't "awful," and more circumstantial than personal. They said, "After Orlando and Katy split, they stayed in touch. It wasn't some awful split. They were just busy with their careers and it wasn't working."
The insider added,
In the past few months, they have spent a lot of time together. They both love traveling and are trying to share as many fun trips as possible. They are dating, but not necessarily putting a label on it. They are not girlfriend and boyfriend. They do seem very happy together though. Orlando always had the nicest things to say about Katy. He loves spending time with her.
Yup. Obviously I'm picking up what you're putting down, insider.
Katy? Orlando? I really really like you guys together. I'm not saying you should be together for me or anyone else's happiness, but I will imply it strongly on the internet.
Check out the entire Gen Why series and other videos on Facebook and the Bustle app across Apple TV, Roku, and Amazon Fire TV.