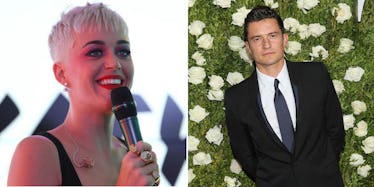 Katy Perry Finally Opens Up About Orlando Bloom's Naked Paddleboard Photos
Tim P. Whitby/Getty Images/Jemal Countess/Getty Images for Tony Awards Productions
Katy Perry isn't afraid to talk about anything and everything these days, so it was really only a matter of time before the singer opened up about the famous photos of Orlando Bloom paddleboarding naked.
Yeah, you know the ones I'm talking about.
Perry's ex was photographed in his, um, natural state during their vacation to Sardinia last August. While Bloom wore only a baseball cap, Perry opted to keep her bikini on for their little excursion on the water.
Apparently, Bloom asked if she too wanted to forgo the clothes, but she just wasn't feeling it.
In a recent interview on KIIS FM's The Kyle and Jackie O Show, Perry opened up about the photos that basically broke the internet.
She said,
He asked me if I wanted to be [naked] and I was just like, it's one of those things where I was like, 'Oh nah.' Just not in the mood.
While the couple appeared very much in love – judging by how comfortable they seemed with each other – they broke up several months later.
But that doesn't mean Perry can't talk about their time together.
She continued,
You know when you're dating someone sometimes, it's exciting to be like, 'Oh should we try and make out over here in this place?' or what have you. And I was just not in the mood. I saved it for the boat!
Listen, Katy, you don't have to explain why you were or weren't in the mood to be naked. You do you!
Back in April, Bloom also talked about the photos, joking,
My poor son! He's got a lot to live up to. I broke the internet.
Although he seems to have a good attitude about it, he never intended for the world to see. Bloom told Elle,
I wouldn't have put myself in that position if I'd thought it would happen. I've been photographed a million times in a million different ways. I have a good radar. We'd been completely alone for five days — nothing around us. There was no way anyone could get anything. I had a moment of feeling free.
Katy Perry and Orlando Bloom may not have lasted as a couple, but unfortunately for them, the internet will make sure these photos never disappear.