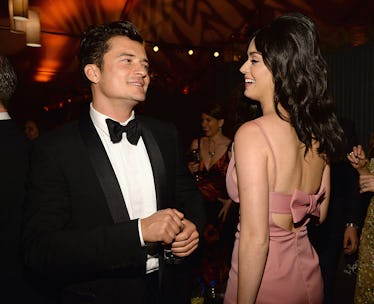 These New Photos Of Katy Perry & Orlando Bloom Together May Mean The Exes Are Rekindling
Kevin Mazur / Contributor
It's 2018, you guys. Welcome to the future. Donald Trump is president, Tyra Banks hasn't aged, and Katy Perry and Orlando Bloom might be getting back together. After a year of on-again off-again behavior, photos of Katy Perry and Orlando Bloom hanging out in the Maldives might prove they're giving this crazy thing called love another shot.
Earlier this summer, we caught Bloom and Perry canoodling at an Ed Sheeran concert, but we all played it cool. Neither person confirmed they were back together, so instead, everyone has been low-key keeping their eye out for more clues or details about their personal lives. In a recent Q&A for her new gig on American Idol, Perry said keeping her personal life private is like "walking a tightrope."
It's hard to fly under the radar when you're one of today's hottest pop stars. Perry has just over 170 million social media followers, and also let the entire world in on her day-to-day life as part of her intense four-day live stream event in June of 2017.
Despite keeping up with her fan base, Perry says fame is actually a "byproduct" of her job. She said,
You don't have to answer any question. You're not under oath. You don't have to leave bread crumbs all over social media if you don't want to. But some people do that and need that and it's a tool. Listen, all the fame stuff is just a byproduct of what I do, it's not what I sought out to do. I just wanted to tell stories and sing and connect with people.
Connect with people like... Orlando Bloom? For example?
Fans spotted the duo hanging out on a beach around New Year's weekend, and could only assume they must have been whispering sweet nothings to one another over chicken tacos. While the photos don't look particularly romantic, it's hard to believe these two just "ran into one another" in the Maldives.
However, a source told People magazine it was just a casual lunch. The insider said,
Orlando and Katy were traveling separately over the holidays and met up in the Maldives after. They have fun and love seeing each other, but it's nothing serious. They are not officially back together.
Right.
Last summer, Perry even admitted on The Morning Mashup some people "are in and out of your life." She added, "It's nice to keep people you love around you. When you get older, lines get blurred."
One could argue Perry is too busy focusing on her new role as an American Idol judge to get back with Bloom. In fact, even she admitted how easy it is to get caught up in the personal stories of hopeful contestants, let alone her massive role as a judge. She said,
You really get invested in their stories obviously after you realize they have that kind of diamond in the rough... It's hard when they're trying to sell the whole thing on the sob story it's like, everybody is going through something. Everybody comes from somewhere. I'm not dismissing that and I don't want to take light of your situation but this is a business and we're here to find someone to elevate, to make an Idol.
And, if you think singing one of her songs is going to win you bonus points to Hollywood, think again.
Perry said,
I wouldn't be tough but I wouldn't say it'd be the smartest thing to do unless you're reinventing it. Because typically I would be singing it the night before and I've sung it ten thousand times... But I want to hear it. But if you reinvent it then you re-inspire it for me so you give me that dopamine hit of 'oh yeah I feel that, I want to see what you do with something else.'
Hmm... stand by, Orlando. We wouldn't say you've been cut just yet.