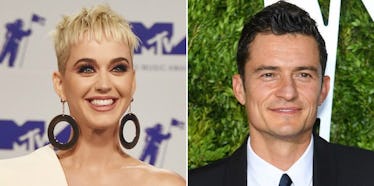 Katy Perry And Orlando Bloom Went To The Beach This Weekend, But No One Was Naked
Frazer Harrison/Dimitrios Kambouris/Getty Images
Remember that one time Katy Perry and Orlando Bloom went paddle boarding and the internet broke because Bloom was naked? Of course you do. Well, Perry and Bloom went paddle boarding again this Labor Day Weekend, which left fans wondering: Are Katy Perry and Orlando Bloom back together? It certainly looks like it, but of course, we won't know for sure until they announce anything (or make it blatantly obvious). They've had a very amicable relationship since breaking up in March, so this could just be a beach trip between friends, but we certainly hope it's not because these two are adorable together.
Perry and Bloom were seen by beachgoers in California this weekend, and they apparently weren't trying to keep their weekend a secret. There have been lots of tweets from fans over the weekend saying they saw Perry and Bloom enjoying their time on the beach together. Bloom even stopped to take a picture with a fan, who tweeted that he saw Bloom and Perry paddle boarding together, though Bloom wasn't naked this time. When those nude photos were about to leak, Bloom reportedly warned his ex-wife, Miranda Kerr, about them, saying he was "really embarrassed" that the photos exist and that he was having to warn her.
Anyway, here are the shots of Perry and Bloom hanging out at the beach this Labor Day Weekend.
A fan was at the same beach and had a serious fangirl moment when he saw them.
What a wild ride. Perry and Bloom dated for a year before their breakup in March, reportedly due to the fact that Perry wanted to get married and Bloom didn't. But according to sources close to the stars, they never stopped loving each other and remained friends throughout their breakup.
Now, it looks like they could be giving their relationship another shot! Perry and Bloom have both been married once before — Perry to Russell Brand for two years, and Bloom to Victoria's Secret model Miranda Kerr, who recently married Evan Spiegel, the founder of Snapchat. Bloom and Kerr have a son together named Flynn.