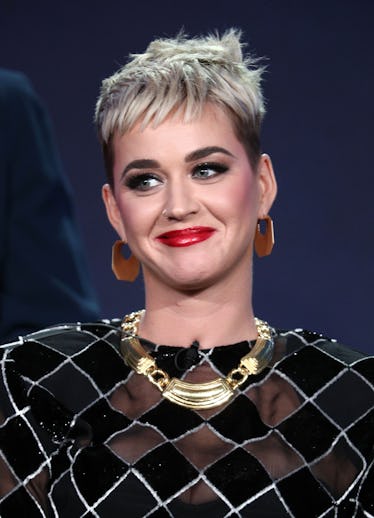 Katy Perry Wore A Onesie Covered In Orlando Bloom's Face & We Have Questions
Frederick M. Brown/Getty Images Entertainment/Getty Images
Whether you're Katy Perry fan or not, there's no denying that she makes some pretty far out style choices. From dressing like a cake, to decking herself out in all neon, the "Dark Horse" singer definitely puts a substantial amount of time and effort into creating some pretty interesting outfits for herself. Although fans are pretty used to her unique fashion sense by now, one of her latest pieces is provoking questions left and right. If you haven't already seen it, Katy Perry's onesie with Orlando Bloom's face on it makes me wonder if they might actually be back together.
According to E! News, Perry was photographed interacting with fans in Chile — and after seeing photos of the interaction, nobody can help but question what she was wearing. The singer was seen sporting a onesie, which happened to have Orlando Bloom's face emblazoned all over it. Although it's sort of a strange outfit to choose to wear publicly in the first place, the fact that they're apparently still broken up triggers so many questions. TBH, this is a mystery even I can't handle. Are they dating again? Is this a classic ironic Katy Perry practical joke? Nothing, by any means, is confirmed at this point in time — but as you could imagine, I am simultaneously shocked (and also super stoked). The dream couple might be back on, and I'm so in love.
One reason why fans think Perry's Orlando Bloom onesie isn't a joke is because there's a chance that Bloom's mother gave Perry the onesie. For his 40th birthday, Bloom might've received the exact same onesie from his mom, according to Cosmopolitan. Coincidence? I think not. At this point, I'm thinking that his mom gave Perry the same exact one she got for him, and TBH, that would be kind of sweet (in a slightly strange way).
This isn't actually the first time fans have suspected that the two are back together. Earlier in January 2018, Bloom and Perry were spotted eating together at a resort in the Maldives, almost a year after they reportedly split in February 2017. I could be totally off, but I feel like the two exes wouldn't be spending time together unless they were back on. They could just be friends, but who's to say?
Also, Bloom posted a potentially flirty comment on Perry's Valentine's Day social media post this past February. The singer uploaded a video of herself at a wedding, where she catches the bride's bouquet, and runs off into the distance. While the video itself was pretty hilarious. Bloom's response to the Instagram post was, "You can run but you can't hide...from YOURSELF." It's hilarious and spot-on, but as the two have previously dated, it could have also been potentially flirtatious. It's a little hard to tell, since nothing is confirmed — but I feel like someone wouldn't make a joke on their ex's V-Day social media post without the possibility that they're dating again. Regardless, it's a potential clue, and I am so on to them.
I'm not sure if this is out-of-the-ordinary, but I've never worn a piece of clothing with my boyfriend's face on it. Maybe we just aren't at that stage yet, but I don't really see it in our future. It's even less likely, though, that I would ever wear anything with my ex's face on it, and the fact that Katy Perry did that exact thing makes fans suspect that maybe she and Bloom are back at it. Personally, I'm super into it, and I'm also kind of wondering if I should get an Orlando onesie for myself.