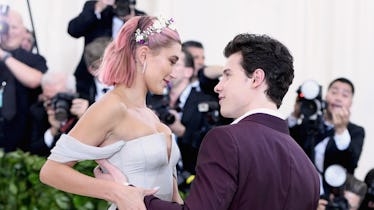 Shawn Mendes & Hailey Baldwin's Quotes About Each Other Say Something About Their Friendship
Noam Galai/Getty Images Entertainment/Getty Images
Can someone please tell me what is going on with Hailey Baldwin and Shawn Mendes? First, Baldwin's walking the freaking Met Gala red carpet with Mendes. Then, she's smooching Justin Bieber in Brooklyn. And, I'm over here like, "Girl, whatever your relationship status is, I am 100 percent behind you. I'm just confused AF!" Ever since Baldwin seems to have pivoted from one singer-songwriter heartthrob to the other, people are wondering, are Hailey Baldwin and Shawn Mendes still friends? According to some of their quotes, it seems like a hard yes. Ya know, if you take celebrities at face value and stuff.
Mendes and Baldwin grew noticeably close at the end of Spring 2018, and when they hit the Met Gala red carpet together arm in arm, the world stood up and paid attention. While there was no outright romantic PDA, there was a lot of touchy-feely hand and arm stuff happening. Obviously, everyone cried "RELATIONSHIP!" but both Baldwin and Mendes later squashed those rumors claiming they were just friends. Baldwin told the UK's Sunday Times, "We hang out and he's super-lovely and a very, very nice young gentleman. But I am single..."
Mendes reiterated this sentiment when he told E! News, "I am single," too. Point blank. As for the gala date, Mendes elaborated:
[The Met Gala] was just overwhelming in the most incredible way. I was so lucky for my first time going there to be able to go with someone like Hailey because she's such a vet and I really admire people like her because of how outgoing she is in such an overwhelming experience.
He added, "She was forcing me to get up and talk to people I would have been terrified to speak to or say high to so I got to meet so many cool people because of her. She's super special, so sweet."
K.
Mendes admitted their decision to go together caused quite the stir. "Texts started coming through, crazy phone calls...," he said.
Since then, Baldwin's been spotted getting a little more than cozy with Justin Bieber. While she and Mendes both confirmed they weren't an item, fans were worried about what her new romance with the Biebs might mean to Mendes. Once again, Mendes claimed they're just friends, people! And, Baldwin is free to date whoever she'd like. When asked about his opinion on Bieber and Baldwin by ETALK, Mendes said, "I don't know if they're dating or not ... I love them both. They're both really awesome people."
So, yup. Sounds like everything here is hunky-dory. Except for one tiny thing: Baldwin deleted all her Instagram photos with Mendes. While all their quotes about each other point to everything being totally friendly between the pair, fans are definitely wondering what Baldwin's motivation for scrubbing her feed clean of Mendes was if they were, in fact, always just friends. Some fans questioning whether her new squeeze Justin Bieber became jealous of their relationship, and that's what ultimately spurred her to delete her pics with Mendes. But if Shailey were always just friends, what is there to be jealous of? Your guess is as good as mine, and chances are we'll never get a straight answer.
The truth is, everyone involved in this love triangle says dating is super hard when you're a young celebrity. As part of her interview the Sunday Times, Baldwin said, "The dating pool is small. It's rare to find somebody that has the same ideas and morals as me. I have found people like that before, though, which is refreshing."
Mendes also told E! News, "It's hard to date somebody in this industry."
As for Justin, well, we know homeboy's been through the romantic ringer. Playing on-again, off-again with Selena Gomez has been his usual go-to, but something about his romance with Baldwin seems to be sticking. Baldwin even admitted there's always been something between them. She told The UK Times, "I met him when I was really young and he was one of my best friends. Everybody knows that at a certain point in time that turned into something else, but that just happens when you're 18, 19. It was what it was." She added, "We didn't speak for quite some time and there was a lot of weirdness that went on...we've moved past that."
Clearly.
Check out the entire Gen Why series and other videos on Facebook and the Bustle app across Apple TV, Roku, and Amazon Fire TV.