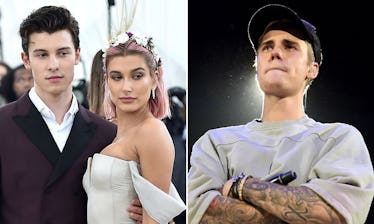 Here's How Shawn Mendes Really Feels About Hailey Baldwin & Justin Bieber's Rumored Romance
Theo Wargo/Getty Images; Jason Merritt/Getty Images
Sometimes, celebs like to give us everyday folk a run for our money. We see them out with someone they are rumored to be dating, but give no confirmation on whether or not they are in a relationship. Case in point: Hailey Baldwin and Justin Bieber. The two have been seen canoodling together in New York, but have been radio silent as to what exactly the status of their relationship is. It's especially confusing because Baldwin was recently linked to singer Shawn Mendes, after attending the 2018 Met Gala together. But now, Mendes has opened up about Hailey Baldwin and gave his thoughts on the rumored relationship between her and Justin. And I don't know about you, but I think that Shawn Mendes' comments on Hailey Baldwin and Justin Bieber are actually incredibly sweet and honest, and shows that he's a really good friend to Baldwin.
In case you missed it, Justin Bieber and Hailey Baldwin were pictured kissing on Saturday, June 16, while they were by New York City's East River, and were spotted once more in lower Manhattan later that evening kissing in Rockefeller Park. When speaking with Canadian program ETALK, Mendes admitted that he isn't sure what Baldwin and Bieber's status is, but that he loves them equally. He said,
I don't know if they're dating or not ... I love them both. They're both really awesome people.
Mendes also reportedly said that he thinks that the pair is "awesome" if Baldwin and Bieber are, in fact, dating.
Now, I know what you're thinking. How can Shawn Mendes be so cool about Hailey Baldwin dating Justin Bieber when the two of them were reportedly an item? We all remember how stunning the pair looked as each other's date to the 2018 Met Gala together:
It was as if there were alarms and sirens basically shouting, "NEW COUPLE ALERT! NEW COUPLE ALERT!" when you looked at the photos:
C'mon. You mean to tell me that these two gorgeous humans aren't totally head-over-heels in love?
While it might seem that these two look like the perfect pair, both Baldwin and Mendes have spoken at length about their relationship — which wasn't even a relationship, by the way. Not a romantic one, at least.
In an interview with the United Kingdom's Sunday Times, Baldwin spoke candidly about her relationship with Mendes, and confirmed that she and Mendes were NOT dating:
We hang out and he's super-lovely and a very, very nice young gentleman. But I am single... The dating pool is small. It's rare to find somebody that has the same ideas and morals as me. I have found people like that before, though, which is refreshing.
And, in an interview with E! News, Mendes recalled his experience at the Met Gala with Baldwin and confirmed that his relationship status was single. He said,
I am single. It was just overwhelming in the most incredible way. I was so lucky for my first time going there to be able to go with someone like Hailey because she's such a vet and I really admire people like her because of how outgoing she is in such an overwhelming experience.
But where does that leave Hailey Baldwin and Justin Bieber? The water seems a bit murky, TBH.
The pair have been seen getting flirty on social media as of late, but back in 2016, Baldwin opened up about dating Bieber in an interview with Marie Claire, and talked about how being with someone who was mega-famous was very difficult for her. She said,
I don't want attention out of dating somebody. Texts started coming through, crazy phone calls...it's hard to date somebody in this industry. You have to have really thick skin and be very strong. You have to focus on the person and nothing else.
More recently, in an interview with The Times UK, Baldwin got honest about just how complicated the ups and downs of her relationship with Bieber were, sharing,
Justin and I were friends for a long time. I met him when I was really young and he was one of my best friends. Everybody knows that at a certain point in time that turned into something else, but that just happens when you're 18, 19. It was what it was. We went through a long period of time when we weren't friends. We didn't speak for quite some time and there was a lot of weirdness that went on. We've moved past that.
I think we can all safely assume that Justin Bieber's celebrity status has not gone away with time, so the jury is still out on whether or not he and Baldwin are a couple. But hey, it's good to know that if the pair are dating, Shawn Mendes totally has their back.
Because if Shawn Mendes approves, you know it's a good idea.