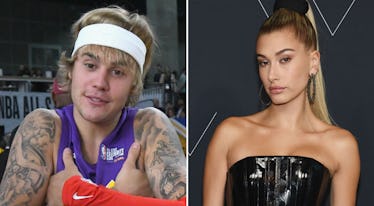 Justin Bieber's Comment On Hailey Baldwin's Instagram Is The Flirtiest Thing Ever
Jayne Kamin-Oncea/Getty Images; Dimitrios Kambouris/Getty Images
Have you ever stalked the comments on a celebrity's Instagram page only to see a different celebrity comment on one of their photos? What about catching one of their celebrity exes creepin'? Well, that's exactly the case for Hailey Baldwin, because her pretty famous ex-boyfriend was being rather flirty with the model in the comments section. Yep, Justin Bieber's comment on Hailey Baldwin's Instagram was definitely coy, but I'm willing to bet you totally overlooked it.
In case you forgot, Bieber and Baldwin were sort of a thing back in 2015, when the Biebs took to Instagram to show off some pretty ~steamy~ photos. One showed the two of them kissing, and another showed the pair getting real close on a couch. In an interview with Marie Claire, the model opened up about what it was like dating someone who was in the spotlight. She said:
I don't want attention out of dating somebody. Texts started coming through, crazy phone calls...it's hard to date somebody in this industry. You have to have really thick skin and be very strong. You have to focus on the person and nothing else.
At first, Baldwin told E! News that she wasn't technically ever "official" with Justin Bieber... but c'mon, you don't have to be officially dating to be a thing nowadays. She said, "We are not an exclusive couple. He's about to go on tour. Relationships at this age are already complicated, but I don't really like to talk about it because it's between me and him."
So they dated (sort of), but then called things off. I get that. And now, it seems like Justin Bieber and Hailey Baldwin are friends again, with Baldwin telling The Times UK that they were "friends for a long time," and that "everybody knows that at a certain point in time that turned into something else." But according to her, "that just happens when you're 18, 19." True.
She admits that after they split, they weren't on speaking terms and there was "weirdness" between them, but now, they've moved on from that. Baldwin also said it made them realize their friendship was more important than their fling. In her interview, she said,
I'd never been through [a high-profile relationship] like that ... But it brought both of us to the realization that we just work much better as friends. He's somebody I really cherish. Now it's a very mature situation. It's good.
Bravo for these two being able to move past a weird point in their relationship and to be able to just be two friendly adults.
Buttttt about that whole "just friends" thing.
How about you tell me whether or not Bieber's comment sounds a little less like a best bud, and a little more like someone trying to shoot his shot. Here's what we have: Baldwin, posing for the cover of Elle Italia:
Looking like a damn dream, I might add. Baldwin posted the pic to her Instagram (because why even be on the cover of a magazine if you can't show it off), and Justin Bieber commented, writing, "Run forest run haha."
I'm sorry, but the only kind of person I've encountered who finishes a comment on social media with "haha" is someone who is trying to show that they're jovial and casual, but also are trying to secretly date you.
So, is Bieber's comment purely a friendly one, or is there more at play here? If — and that's a big if — Bieber were looking for a little something more with Baldwin, then now might actually be the right time, considering Baldwin is not dating anyone in particular, despite having ties to singer Shawn Mendes. In her interview with The Times UK, she said that she and Mendes "hang out and he's super-lovely and a very, very nice young gentleman. But I am single."
So, Biebs, if you are in fact looking for a time to go for it, I'd say you might want to give it a shot sooner than later.