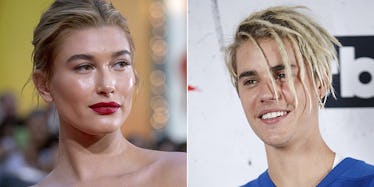 Hailey Baldwin Opens Up About What It's Like To Date Justin Bieber
REUTERS/Brendan McDermid/Danny Moloshok
Around New Year's, Justin Bieber basically confirmed he was dating Hailey Baldwin.
The Purpose singer uploaded ~sexy~ photos with his new lady, and fans lost their sh*t. Since the reveal, their relationship has kind of been on the DL. Like, why haven't we seen any more photos of the two of them? Why is Hailey never in JB's Snapchats? Are they even still dating? Are they both alive?
Well, if you're as concerned as I am, don't worry. We have answers.
The 19-year-old model is one of Marie Claire's cover girls for the month of May, and in her exclusive interview, she opened up about her relationship Justin Bieber.
It looks like things have been pretty complicated between the two of them, and their romance was short lived.
In the magazine, Baldwin talks about how it hasn't been easy being in a relationship with someone who is constantly in the spotlight. She said,
I don't want attention out of dating somebody. Texts started coming through, crazy phone calls...it's hard to date somebody in this industry...You have to have really thick skin and be very strong. You have to focus on the person and nothing else.
Hmm, I guess that explains things. In a previous interview, Baldwin told E! News she was never officially with Justin. She cleared up the rumors by saying,
We are not an exclusive couple. He's about to go on tour... Relationships at this age are already complicated, but I don't really like to talk about it because it's between me and him.
According to an inside source, Baldwin is currently single, but the two are reportedly still good friends. I guess there's just too much going on in their lives to make things work at the moment -- or perhaps Justin Bieber is still just in love with Selena Gomez. Ugh, one can only hope. #Jelena.
Citations: Hailey Baldwin Talks About Relationship With Justin Bieber (E! News)