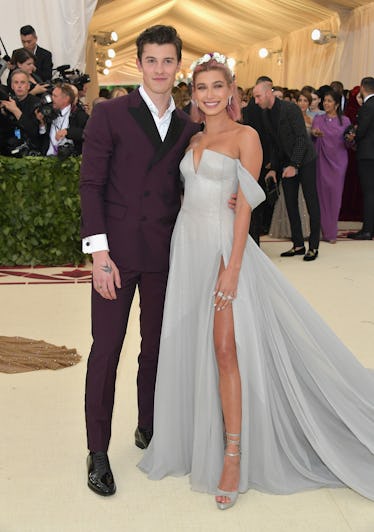 Hailey Baldwin Confirms She's Single & Not Dating Shawn Mendes, So I'm Confused
Neilson Barnard/Getty Images Entertainment/Getty Images
Unpopular opinion: I feel really bad for celebrities. Well, to clarify, I specifically feel bad for them when it comes to their romantic lives. Besides the fact that so many of them wind up divorced, just simply dating comes with a whole slew of unique pressures. Figuring out where a relationship is going already confusing enough as it is for normal people in this day and age but can you imagine trying to figure that out when you're constantly being scrutinized by the public eye? For example, the whole world was wondering if Hailey Baldwin and Shawn Mendes were dating when, it turns out, the two weren't really even into each other in that way.
OK, let me backtrack here for a second. Billboard reports that rumors started swirling about Baldwin, 21, and Mendes, 19, months ago when the two were allegedly spotted holding hands at Baldwin's Halloween party back in 2017. Things got extra steamy when, according to US Magazine the two reportedly spent the holidays together in his hometown of Toronto. Then the pair really started pulling at the heart strings of fans when they rolled up to the 2018 Met Gala together.
I mean, seriously. Look at these pictures.
They're stunning. And, by the looks of it, very into each other.
Fans were loving the pictures so much that they took to twitter to share their total and complete excitement over what they took as a confirmation of Mendes and Baldwin's relationship.
But, alas, looks can be deceiving. Even though the pair looked pretty much as #RelationshipGoals as you can be at the Met Gala, it turns out that they really aren't an item after all.
How do I know this? Well, for the first time, this intel isn't based on rumors or speculation. No, instead it's actually coming straight from the source. In a recent interview with the United Kingdom's Sunday Times, Baldwin got very real about her relationship with Mendes... and it doesn't seem to be much of a "relationship" at all.
"We hang out and he's super-lovely and a very, very nice young gentleman," opened up to the Sunday Times. "But I am single... The dating pool is small. It's rare to find somebody that has the same ideas and morals as me. I have found people like that before, though, which is refreshing."
And, don't worry, it looks like Mendes is totally on the same page as Baldwin. In an interview with E! News that took place shortly before Baldwin's interview was published, he said of his experience at the Met Gala:
I am single. It was just overwhelming in the most incredible way. I was so lucky for my first time going there to be able to go with someone like Hailey because she's such a vet and I really admire people like her because of how outgoing she is in such an overwhelming experience.
Those three words at the beginning of his statement explain his relationship clear as day, people. He is single.
After all of those rumors and all of that speculation, it turns out Mendes and Baldwin are really nothing more than a couple of friends who casually hit up the Met Gala together when they both happen to be simultaneously single. Ah, so relatable. Doesn't everybody have one of those friends?!?
More power to the two of them for managing to not date despite the pressure from their fans. As we all know, sometimes you just don't like someone in that way and that's TOTALLY FINE.
Check out the "Best of Elite Daily" stream in the Bustle App for more stories just like this!