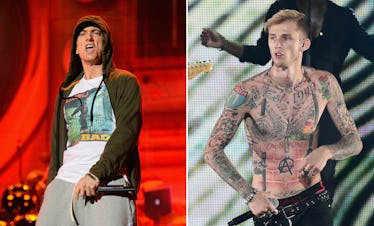 This Timeline Of Eminem & Machine Gun Kelly's Feud Explains Why They Hate Each Other
Theo Wargo/Ethan Miller/Getty Images Entertainment/Getty Images
There's been a pretty major feud between two rappers going on for a while now, but it's recently bubbled over into dangerously public territory. I'm talking about Eminem and Machine Gun Kelly and the rather intense back-and-forth shade the world has been seeing from the two artists. Because their beef seemingly goes way back, it's hard to tell where exactly these two stand now with each other. Are Eminem and Machine Gun Kelly friends? Enemies? Or worse, frenemies? While we can't say for sure whether these two have talked through their issues or not, it's safe to say based on what we do know about the timeline of their feud that things probably are decidedly not friendly between the pair. Elite Daily reached out to Eminem and Machine Gun Kelly's teams for comment on the status of their relationship, but did not hear back by the time of publication.
So let's all strap ourselves in and head back in time to where it all started, and check out the moments that may have revealed some cracks in their relationship before it ever really began.
May 7, 2012: Machine Gun Kelly makes a lewd comment about Eminem's daughter.
Do you remember what 2012 was even like? Let me briefly fill you in on what life resembled in the celebrity world over five years ago: Katy Perry and Russel Brand were finalizing their divorce. Kate Middleton and Prince William announced they were expecting their first royal baby. And Kim Kardashian started dating her now-husband, rapper Kanye West. What a time to be alive!
But it was also a time when a 22-year-old named Richard Colson Baker released his first rap album, Lace Up, under the stage name Machine Gun Kelly. While he's pretty well-known in present day, I'd say that he was just starting his career back in 2012 — unlike Eminem, who has been in the rap game for decades.
While Eminem *probably* had no clue who Machine Gun Kelly was at that time, MGK clearly knew who Eminem was, as well as having knowledge that Eminem had a daughter named Hailie, who was 16 at the time. On May 12, 2012, MGK took to Twitter and reportedly commented about Eminem's daughter's attractiveness, writing,
ok so I just saw a picture of Eminem's daughter...and I have to say, she is hot as f*ck, in the most respectful way possible cuz Em is king.
Welp, that's gross! But there you have it.
And that, my friends, is seemingly the thing that has connected these two from the start.
Oct. 19, 2015: Machine Gun Kelly claims that his tweet has negatively affected his career.
MGK went on Hot 97 FM and claimed that his tweet regarding Hailie has altered the trajectory of his career, telling the radio station that "certain people won't even listen or review" his albums.
He also defended his tweet from 2012, saying:
Pictures of [Hailie] had came out, and I'm like, what, 20 years old, 21 at the time? I said 'she's beautiful, but all respect due. Eminem is king.' What's wrong with that? Is there a 15-year age gap where I'm a creep for that? I was 21, dawg.
Still sort of gross, IMO, but I digress.
Now from here, things stay pretty dormant... until that changed. Let's continue, shall we?
March 1, 2018: Machine Gun Kelly throws shade at Eminem on Tech N9ne's song "No Reason."
Here's where things start to really get dicey, fam. MGK was featured on the song "No Reason" and has a verse that clearly shows he has a bone to pick with Eminem, mocking his rival's song "Rap God."
I pop cherries and pop stars, you popsicles is not hard, Popped in on the top charts out the cop car, To remind y'all you just rap, you're not god, And I don't care who got bars
Shots officially fired.
Aug. 30, 2018: Eminem drops a new album and disses Machine Gun Kelly in one of his songs.
While Eminem's most recent album, Kamikaze called out a few different people, his song "Not Alike" made headlines after his lyrics not-so-subtly directed an array of disses at Machine Gun Kelly, noting that he saw MGK's comment about Hailie.
Some of the lyrics to "Not Alike" go:
If you wanna come at me with a sub, Machine Gun, And I'm talkin' to you, but you already know who the f*ck you are, Kelly, I don't use sublims and sure as f*ck don't sneak-diss, But keep commenting on my daughter Hailie
Pretty sure this was Eminem's way of telling MGK to GTFO, if you ask me.
Kthanksbye.
Sept. 3, 2018: Machine Gun Kelly fires back with a diss track of his own.
Not to be outdone, Kelly basically said, "I think the f*ck not" and released "Rap Devil," which is a play on words from Eminem's single "Rap God."
On the track, he raps:
You're not getting better with time, It's fine, Eminem, put down the pen, Or write an apology, Over the simple fact, you had to diss to acknowledge me, I am the prodigy, How could I even look up to you? You ain't as tall as me
To be honest, there's very little in this song that isn't throwing shade at Eminem, with one line even making the claim that Eminem contacted Diddy to hinder Kelly's career.
But if you think that Machine Gun Kelly got the last laugh with this, you'd be wrong. This feud goes even deeper. Let's continue.
Sept. 12, 2018: Eminem candidly talks about his feud with Machine Gun Kelly in an interview with Sway Calloway.
Up until this point, Eminem didn't point any fingers *directly* at MGK, but in his interview with Calloway, he reveals it all, candidly speaking about how he didn't even see Kelly's comment regarding Hailie until a year and a half after the tweet.
"It never hit my radar and then one day, you know, you go down the f*cking wormhole of YouTube or whatever right, so I see 'Machine Gun Kelly talks about Eminem's daughter' whatever right," he told Sway.
He continued:
That's not why I dissed him. The reason I dissed him is actually a lot more petty than that. The reason that I dissed him is because he got on — first what he said 'I'm the greatest rapper alive since my favorite rapper banned me from Shade 45' or whatever he said, right? Like I'm trying to hinder his career. I don't give a f*ck about your career. You think I actually f*cking think about you? You know how many f*cking rappers are better than you? You're not even in the f*cking conversation.
Eminem continued to talk about Machine Gun Kelly and his relevancy, telling Calloway that now he's in "this f*cking weird thing" where he doesn't want to respond — because it only makes MGK even bigger by mentioning his name — but feels compelled to do something to try to "destroy" Kelly.
Will it ever end, you guys? Erm, probably not.
Sept. 14, 2018: Eminem releases another diss track, "Killshot."
As if there was any question as to who this song was aimed at, the cover art pretty much says it all:
Some of the lyrics to "Killshot" go:
Here's that autograph for your daughter, I wrote it on a Starter cap Stan, son, listen, man, dad isn't mad But how you gonna name yourself after a damn gun and have a man bun?
MGK took to Twitter that same day to mock Eminem's delayed response (though two weeks to come up with the kind of bars Em did seems like sorcery to me):
Sept. 17, 2018: Machine Gun Kelly reportedly gets booed onstage at a concert.
Wearing Eminem's "Killshot" cover art on a T-shirt, MGK opened for Fall Out Boy and video shows the rapper getting booed:
Although some people argue that the audio was altered and the booing was added in post-production, it's still a pretty dicey situation if you ask me. Elite Daily reached out to Machine Gun Kelly's team previously for comment on the video, but did not hear back by the time of publication.
Sept. 20, 2018: Machine Gun Kelly opens up about his feud on the Power 105.1 radio show.
Sitting down with The Breakfast Club, Kelly spoke about how Eminem "blew it" with his chances of a reconciliation. "He doesn't want to have a conversation...F*ck you. You blew it," Kelly said, adding, "You blew it. It's cool 'til it ain't. I wish he would shut the f*ck up."
So, where do Eminem and Machine Gun Kelly stand with each other?
I'm going to go out on a limb here and say that the rappers are still in a state of tumultuous disdain for one another. We've yet to see either Eminem or MGK wave any white flags — and there's no telling if we ever will.
It looks like these two are definitely not on each other's speed dial, so we're just going to have to wait and see exactly how this feud pans out.