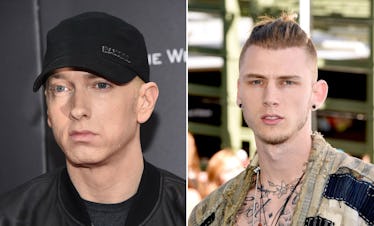 Eminem Just Responded To Machine Gun Kelly's "Rap Devil" Diss In The Most Epic Way
Michael Loccisano/Jason Merritt/Getty Images Entertainment/Getty Images
Is there such thing as peace in the rap universe lately? It seems as though every day, there is new beef to be had between two rappers, and this time, things are getting pretty damn personal. Eminem and Machine Gun Kelly are currently entangled in a pretty nasty feud, after Eminem's most recent album, Kamikaze, featured some controversial lyrics — most notably in the song "Not Alike," which took aim at Machine Gun Kelly. Kelly then responded with "Rap Devil," a diss track of his own, mocking Eminem's single "Rap God." Don't worry if you're confused. You're not alone. But now, Eminem's response to Machine Gun Kelly's "Rap Devil" diss will make you want to give the rap legend a standing ovation.
So let's go back to where it all began. On August 30th, Eminem's most recent album, Kamikaze, dropped, and pretty much no one was safe. While Em disses a ton of different people within the album's entirety, we're going to focus this story on MGK's feud for brevity.
On the track "Not Alike," Eminem takes aim at Machine Gun Kelly, bringing up a comment that MGK said about Eminem's daughter, Hailie, back from 2012, reportedly tweeting that the 16-year-old was "hot as f*ck." Some of the lyrics to "Not Alike" go:
If you wanna come at me with a sub, Machine Gun / And I'm talkin' to you, but you already know who the f*ck you are, Kelly / I don't use sublims and sure as f*ck don't sneak-diss / But keep commenting on my daughter Hailie
Just a few days later, MGK fired back with a diss track of his own, called "Rap Devil," in which he claims that Eminem contacted Diddy to hinder MGK's career. On Sept. 3, he took to Twitter and wrote,
im standing up for not just myself, but my generation. im doing the same shit you did back in ur day. life is still real on my side, and i had to take time from the grind to defend myself from someone i called an idol. love, Rap Devil.
On the track, MGK raps:
Let's talk about the fact you actually blackballed a rapper that's twice as young as you (let's talk about it) / Let's call Sway, ask why I can't go on Shade 45 because of you / Let's ask Interscope how you had Paul Rosenberg trying to shelf me
Are you keeping up? Good. Because it gets even crazier.
In an interview with Sway Calloway, Eminem opened up about the feud between him and Machine Gun Kelly, explaining that he didn't see the comment regarding Hailie until about a year and a half later. "It never hit my radar and then one day, you know, you go down the f*cking wormhole of YouTube or whatever right, so I see 'Machine Gun Kelly talks about Eminem's daughter' whatever right," Eminem tells Sway.
"So, I'm like 'what the f*ck?' I click on it…he starts doing a press run basically about Hailie. I'm like 'what the f*ck? Yo, my man better chill,'" Eminem said before revealing that isn't even why he dissed the younger rapper. The exact reason is much deeper He told Sway:
That's not why I dissed him. The reason I dissed him is actually a lot more petty than that. The reason that I dissed him is because he got on — first what he said 'I'm the greatest rapper alive since my favorite rapper banned me from Shade 45' or whatever he said, right? Like I'm trying to hinder his career. I don't give a f*ck about your career. You think I actually f*cking think about you? You know how many f*cking rappers are better than you? You're not even in the f*cking conversation.
Eminem: 1. Machine Gun Kelly: 0.
Eminem went in on Machine Gun Kelly once more in his interview, talking about MGK's relevancy, and wondering if adding fuel to the fire would affect MGK's career in a positive way simply by having his name out there.
"Now, I'm in this f*cking weird thing because I'm like I have to answer this motherf*cker and every time I do that, it makes that person — as irrelevant as people say I am in hip hop, I make them bigger by getting into this thing where I'm like I want to destroy him, but I also don't want to make him bigger because now you're a f*cking enemy," Eminem said, adding, "I'll leave it at that."
If there was ever a time for a mic drop, now would be it.
Even though it's clear these two are not friends, Eminem did have a mature response when asked about MGK's "Rap Devil," saying that the song was "not bad, for him — he's got some good lines in it," and also touched upon the rumor that he spoke to Diddy to try and wreck MGK's career.
"I've never made a f*ckin' call to Diddy. Are you f*ckin' kidding me?" Eminem explained. "It didn't even feel like a diss to me. It just felt, like, pitiful."
All I can say is... damn. You can watch the whole thing below, and it will give you some serious insight into the rap world:
Will there just be diss track after diss track back and forth between the two rappers until the end of time? I'm no scientist, but I feel like both rappers are currently jotting down little digs aimed at the other just in case one of them starts something up again.