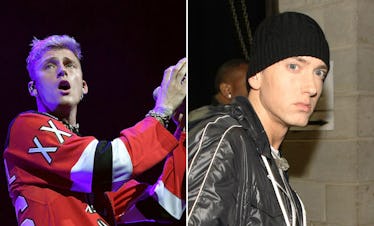 Some Fans Think Machine Gun Kelly Was Booed While Performing His Eminem Diss Track
Mike Coppola/Christopher Polk/Getty Images Entertainment/Getty Images
Do you feel like becoming visibly uncomfortable right at this very moment? You do? Great, then do I have a story for you, my friend. Recently there have been many ~waves~ of beef in the rap community, but two rappers, in particular, showing some real animosity toward each other: Eminem and Machine Gun Kelly. While we'll dive into the details of the feud later, just know that the two are not on good terms, and both have created diss tracks aimed at the other. But now, there's a video of Machine Gun Kelly being booed while performing "Rap Devil," a diss track that mocks Eminem's single "Rap God," and it is so, so painfully awkward to watch — but is it real? Was Machine Gun Kelly booed while performing? Many fans think the video is doctored, and there might be proof that points to that fact. Let's investigate, shall we?
Here's what went down: Machine Gun Kelly was the opening performance at a Fall Out Boy concert on Tuesday, Sept. 18, and he was reportedly booed by the crowd throughout his performance of "Rap Devil." In a video seemingly captured by a fan, you can hear MGK singing the lyrics to his diss track that call Eminem out — and according to HipHop-N-More, he opened the set by reportedly saying, "F*ck Marshall Mathers." But the most cringe-worthy part of the video was the audio of the crowd reportedly booing MGK so much so that it nearly drowns out the audio of him rapping.
You can check out the video that was posted to Twitter below, but prepare for your cheeks to get really red, because it's pretty brutal:
If you're crawling under your covers to try and escape reality after viewing it, I honestly don't think you're alone.
But hold up: there's a bit of a conspiracy theory going around that the traumatic video of MGK being booed might actually be doctored, and that there was no booing involved at all, but that audio was added in after the performance. Complex Magazine notes that there is another video of MGK performing the same song at that concert... except this video features absolutely no booing from the crowd.
The Instagram user who uploaded the video commented:
So apparently some delusional Eminem stans edited footage of MGK performance and input boos in there then sent em out to media outlets to make it looks like ppl ain't rocking wit him. Y'all believe this or na? They say this the real footage
Elite Daily reached out to Machine Gun Kelly's team for comment, but did not hear back by the time of publication.
Eesh. While we can't say for certain which is the *real* video, we do know that the beef between Eminem and Machine Gun Kelly is certainly still going strong.
After Eminem's most recent album, Kamikaze, dropped on Aug. 30th, the track "Not Alike" was aimed towards Machine Gun Kelly and a comment that he said about Eminem's daughter, Hailie, from 2012, reportedly tweeting that the 16-year-old was "hot as f*ck."
Just days later, MGK debuted a diss track of his own, "Rap Devil," where he alludes to the fact that Eminem contacted Diddy to hinder MGK's rap career.
Then, on Sept. 12, Eminem was interviewed by Sway Calloway and revealed the reasons behind his feud with Machine Gun Kelly, noting that he had no idea MGK said anything about his daughter until a year and a half later, and that those comments weren't even the real reason why he dissed Kelly. He told Sway:
That's not why I dissed him. The reason I dissed him is actually a lot more petty than that. The reason that I dissed him is because he got on — first what he said 'I'm the greatest rapper alive since my favorite rapper banned me from Shade 45' or whatever he said, right? Like I'm trying to hinder his career. I don't give a f*ck about your career. You think I actually f*cking think about you? You know how many f*cking rappers are better than you? You're not even in the f*cking conversation.
Among other things, Eminem also responded to the rumors about speaking to Diddy about MGK's career. "I've never made a f*ckin' call to Diddy," he said. "Are you f*ckin' kidding me? It didn't even feel like a diss to me. It just felt, like, pitiful."
So whether or not the video of fans booing at Machine Gun Kelly's concert are real or altered, I can't see the two rappers hugging it out and making up anytime soon.